Main content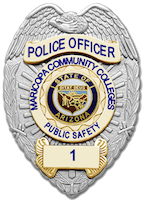 On behalf of the men and women of the Maricopa Community Colleges Department of Public Safety, it is my pleasure to welcome you to Scottsdale Community College.
The Maricopa County Community College District (MCCCD) Police Department is a law enforcement agency that operates on site, 24 hours a day, 7 days a week, 365 days a year. Police Department personnel assigned to Scottsdale Community College (SCC) are always available on campus every day to provide assistance or information, either in person or by phone.
The main campus of Scottsdale Community College is located within the boundaries of the Salt River-Pima Maricopa Indian Community, which is adjacent to the City of Scottsdale. The SCC Police Department maintains an excellent working relationship with both the Salt River and Scottsdale Police Departments.
The men and women of the MCCCD Police Department are dedicated individuals who are committed to making a difference and supporting the educational mission of Scottsdale Community College. If you are the victim of a crime I encourage you to report it, or any suspicious activity you observe on campus, to the SCC Police Department. I am confident that you will find members of the Police Department approachable, knowledgeable, and highly professional.
Please take a few minutes to review the information provided on the SCC Police Department website. I invite you to contact College Police if you need further information or simply wish to speak with one of our officers. We are constantly seeking ways to improve our services and welcome your comments, suggestions, compliments, and complaints, Since many of our students also attend other Maricopa Community College campuses I encourage you to visit the MCCCD Police Department website for links to the Annual Security Report.
Please feel free to contact me at (480) 423-6510 or by email: [email protected]
Arlyn Walz, Commander
SCC Police Department
Scottsdale Community College
SCC Police Department Mission
The mission of the SCC Police Department is to provide for the safety and security of people and property on the campus of Scottsdale Community College.
View these videos to learn more about our mission:
MEMS – Maricopa Emergency Management System
Please visit the MEMS website for emergency preparedness information and to signup for the RAVE Alert system updates to your mobile device or email.
Please visit the Occupational Health and Safety [OHS] website for employee health and safety information.