Notice
This article appears for archival purposes. Any events, programs and/or initiatives mentioned may no longer be applicable.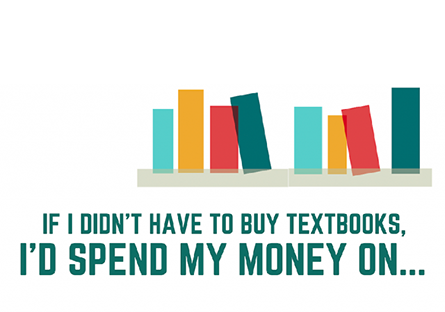 Representatives from the Open Education Committee and the Center for Teaching and Learning at Scottsdale Community College (SCC) recently asked students on campus to complete the statement:
"If I didn't have to buy textbooks, I would spend my money on…"
Their responses, not surprisingly, were pretty frank: $250 saved to pay for classes next semester, $400 to move out of their parents' house, $250 to take one's girlfriend on more dates, $100 to go shopping, and more. Their comments illustrate how the rising cost of textbooks directly impacts college students and contributes to the high cost of achieving a higher education.
A 2018 report by CBS News revealed that the cost of college textbooks has risen four times faster than the rate of inflation over the past 10 years. That has caused 65% of students to skip buying required texts at some point in their college career due to affordability. What's worse, many of these students knew that it could impact their grade and still chose not to spend the money.
To address this challenge, SCC today announced the A to Z Affordable to Zero Textbook Cost Degrees program, starting with the Fall 2020 semester. Students can now pursue an entire degree program that offers no cost or low cost (less than $40) textbooks throughout all courses within the program. Instead of requiring the purchase of expensive textbooks, SCC provides open educational resources (OER), low-cost instructional materials, library resources, and more as part of its academic instruction.
The first two SCC degree programs offering the innovative A to Z are Sociology and Dance, and additional programs are expected to be available in 2021.
OER are learning materials that are free to use, adapt, and share because they are either in the public domain or available under an open content license. OER can include full courses, course materials, content modules, textbooks, journals and more, along with the software to support the creation, delivery, use and improvement of open learning content. Instructors can customize their materials for the specific needs of their students and for students to share their learning resources with the world.
"Scottsdale Community College cares about student textbook costs and equitable access to information," said Interim President Chris Haines. "Many of our faculty members have chosen to offer library resources, free and low cost materials, as well as openly licensed materials in their courses instead of expensive publisher textbooks. These educational materials are constantly reviewed and updated, ensuring high quality while radically decreasing student costs."
SCC already offers one of the lowest tuition rates across Arizona at only $85 per credit, which translates into about $2,500 total annual tuition for a full-time student. This is significantly lower than the estimated $10,000 annual tuition required at local four-year state universities.
SCC has provided OER and no-cost textbooks in certain classes for years, creating an impressive savings record of more than $5 million in just the past three-and-a-half years.
The Mathematics Department at SCC, for example, has been an early adopter of OER. Since 2012, they have transitioned 75% of their courses to the use of no-cost OER materials and assisted approximately 40,000 students, saving them more than $4 million.
"Many of our faculty have authored materials, and we work to provide open or low-cost materials for as many courses as we can," said Dr. Donna Slaughter, Division Chair for SCC's Mathematics Department. "We find that students benefit from being able to access their materials right away on the first day of class, and avoiding the high costs that technical resources usually encumber allows them to spend their funds on other important things."
The Dance Program at SCC is expanding its use of no-cost textbooks across all of its courses.
"Many of our students struggle with everyday things such as buying groceries, having stable housing and reliable transportation," said Karryn Allen, Co-Director of SCC's Dance Program. "Although we cannot help with these things directly, we are doing our best to eliminate extra costs associated with our courses to positively impact our students. Using no-cost and/or open educational resources instead of textbooks does this."
In celebrating national Open Education Week March 2-6, 2020, and to bring more attention to the new A to Z program to current students, representatives of SCC's Open Education Committee are exhibiting on the campus from 10 a.m. to 1:30 p.m., March 3 and 4, with interactive activities. They also plan to ask students to complete the same statement: "If I didn't have to buy textbooks, I would spend my money on…"