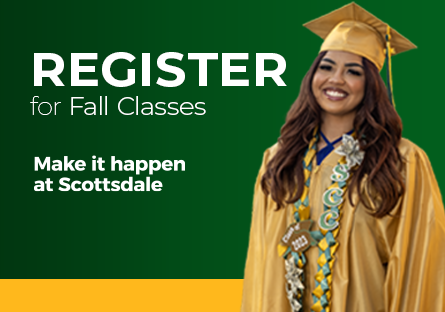 Whether you're a current student, a new student, or a workforce professional exploring a new career, Scottsdale Community College (SCC) has a program designed to meet your schedule and learning style! We offer flexible learning options, with classes held online, in person, or hybrid (a combination of the two); 160+ degree and certificate programs; and free student services like tutoring, counseling, and academic and career advising to help you reach your goals. 
Registration for Current Students
Hey, Artichokes! Register early to secure your place in the classes you desire and get the course schedule you want. Planning for next semester now can help you keep your studies on track.
Next Steps:
1. Plan out which courses you want to take during the Summer and Fall semesters now. Refer to your Pathway Planner for guidance, or schedule an appointment with your advisor.
2. Visit Find a Class to locate the specific sections, days, and times for the classes you want to take.
3. Register for those courses as soon as possible. You do not have to meet with your advisor before you register for your classes.
Learn more at the Academic & Career Advisement Center.
Registration for Future Students
Pursuing a college education can help position you for future success. This might include learning new skills to help grow your career, resuming coursework that may have been paused due to personal issues, or taking your very first college class.
In addition to our traditional academic programs in business, science, communications, English, and many more, SCC offers extensive Career and Technical Education (CTE) programs. These include degrees and certificates in film and theater, fine arts, criminal justice, interior design, nutrition, hospitality and tourism, business, and computer information systems, just to name a few.
Learners can choose specialized instruction working toward a high-demand career opportunity. For certain certificate programs, simply completing one or two courses can provide the technical competency needed to help master a new skill set – and that can potentially lead to higher pay and increased job responsibilities.
College students currently attending or looking to attend other educational institutions can take their required gateway courses at a much lower cost, and then seamlessly transfer those credits to a wide variety of public and private universities. SCC offers degrees designed specifically to transfer and participates in many transfer agreements with colleges and universities.
Coursework for Summer and Fall semesters is available in person, online, or hybrid (a combination of the two), providing maximum flexibility to accommodate most schedules.
Next Steps:
1. Get admitted and enroll in classes. Visit Navigate Your Future to connect with an SCC Navigator. You'll receive personalized concierge service as you register. 
2. Plan out which courses you want to take during the Spring semester. You can browse our degree and certificate offerings, learn more about career advancement and resumé-building courses, or meet with an academic & career advisor to discuss your options.
Haven't found what you're looking for? Access all of our college operations on the SCC Cares page. We're all here to help you succeed.