Tuesday, January 31, 2023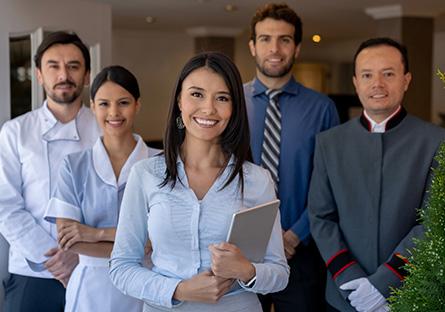 "Work & Learn" gives SCC students hands-on instruction, work experience, free tuition and employment opportunity.
College students and employers have long battled with the same Catch-22: students need true work experience in their field to stand out to employers though struggle to find the time when school is already a full-time commitment. Scottsdale Community College's (SCC's) innovative Work & Learn model offers a solution. Students work for an employer in their field of study while simultaneously pursuing their degree, giving them a unique perspective on both processes. The employer pays their wages and tuition while offering the potential of a full-time job upon graduation – and the employer has direct access to a pipeline of highly skilled and proven workers.
SCC has found success with the Work & Learn model by connecting its Business program students to employment opportunities at The Hartford, in Scottsdale. SCC recently launched a similar Work & Learn initiative with Vi Living Grayhawk, Vi Living Silverstone, the Royal Palms Resort & Spa, and the Marriott to provide the College's Hospitality program students with real-world experience across various functions within the travel and leisure industry.
For the hotels and resorts that make the Phoenix area a national vacation destination, the program offers an immediate solution to staffing challenges. By working closely with SCC to outline the available entry-level positions, the College can connect directly with motivated and qualified students to provide a talented pool of individuals who can work approximately 20 hours each week. This early investment in future employees can help increase retention and attract more non-traditional candidates with diverse backgrounds.
For students, the benefits are obvious. Most important is the promise of an interview that often leads to a full-time job with their Work & Learn employer upon graduating from SCC. Furthermore, by actively working in the industry they are studying, students gain a practical perspective on their classwork. The nuances of their work come back to the classroom with them, allowing them to make more insightful inquiries into their curriculum and better understand the application of what they are studying. They also have the opportunity to make industry connections, network, and meet mentors. Students graduate from the program with an associate's degree, a job offer, and valuable industry experience.
"As various industries struggle to meet staffing needs, this unique arrangement serves as a creative solution," says SCC Director of External Affairs, Workforce Development & Community Partnerships Melanie Burm. "Students vying for real-world experience – without sacrificing their commitment to their education – are the ideal candidates to employers seeking entry-level and enthusiastic talent. SCC is excited to explore this model with other industries moving forward."
The Work & Learn program is part of a wider effort at SCC to partner higher education with local industries to create a more streamlined pipeline for finding talented employees. By marrying curriculum with industry standards and expectations and then providing opportunities for real on-the-job experiences while still in school, SCC ensures students are better equipped to meet the needs of their employers, and Arizona's pool of talented workers expands to support the state's growing industries.
Learn more about SCC's Work & Learn Program.
For questions and student inquiries, please email [email protected]