Tuesday, November 14, 2023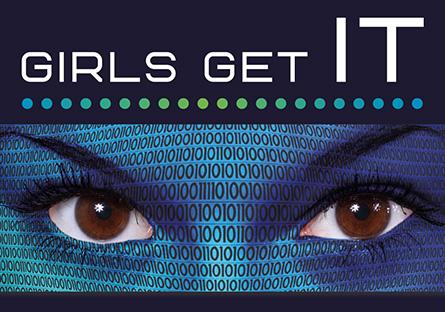 Now in its fifth year, the Girls Get IT conference takes place from 8:30 a.m. to 3:00 p.m., Nov. 17, 2023, at Scottsdale Community College, with a goal of introducing high school girls from across the Valley to the many career possibilities in the field of Information Technology (IT). Dr. Melanie Patton, Associate Chief Medical Officer for HonorHealth, is the keynote speaker.
Through interactive workshops, led by community college instructors, attendees will learn about emerging technologies and the full range of educational programs and in-demand professional opportunities available in IT, including cybersecurity, artificial intelligence, web application design, object-oriented software development, and more.
For example, participants will learn how to use open broadcaster software (OBS) as a production tool to record/stream live events, use pre-built 3D models to do basic animation using Blender 3D, and spot the difference between artificial intelligence and deep fakes.
In addition to an estimated 200 high school participants this year (including from the Salt River Pima-Maricopa Indian Community), more than 50 professional women, including software engineers, web designers, program developers, and data analysts, to name a few, will be on hand providing insight, through their own lived experiences and encouragement to those considering a path in IT. The IT professionals will also engage in community-building conversations to further strengthen the talent pipeline for women in the field long-term.
Current sponsors for the event are Salt River Project, Microchip Technology, Nationwide, Center for the Future of Arizona, Infosys, and the Mesa Chamber of Commerce.
"There are so many exciting career possibilities available in IT today, and this will only increase," said Diane M. Meza, director of MITI-EV. "Girls Get IT helps showcase the many evolving areas of study and the professional women thriving in information technology careers today. Our goal is to encourage female high school students to pursue the next steps in their educational journey."
Everyone is welcome to participate. For more information and for sponsorship opportunities, please visit Girls Get IT.
Girls Get IT is produced by MITI-EV (Maricopa IT Institute-East Valley), a collaboration among Chandler-Gilbert Community College, Mesa Community College, Rio Salado College and Scottsdale Community College. The Institute provides career readiness for the IT sector, including courses to up-skill workers. MITI meets the emerging technological workforce's demand for talent in areas of app development using Swift/Xcode, big data, cloud computing, mobile and wearable technology, and the Internet of Things.