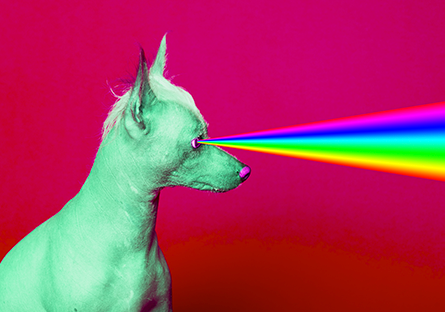 Immersing yourself in the newest blockbuster movie can make it easy to forget the years of hard work involved in these massive Hollywood productions. But what if you could make a film in less than the time it takes to watch one? That's the challenge laid down by the Scottsdale School of Film+Theatre at Scottsdale Community College (SCC) during their biannual Two Hour Film Challenge.
"This challenge produces some truly impressive art," says Danielle Stallings, full-time SCC residential faculty member, Head of Foundations for the Scottsdale School of Film+Theatre, and the creator and producer of the Two Hour Film Challenge. "The time constraint silences your inner critic, so it becomes an act of pure creation. There's no time to second-guess yourself. As a result, every year we see films that are emotional, funny, and inspiring. I can't wait to see what our filmmakers can do this year."
From 4 to 6 pm, on April 26, 2023, film students, movie buffs, up-and-coming artists, and anyone with or without film experience from across the world is invited to compete to produce a compelling short film in just two short hours. Working in teams, friends and strangers will come together via Zoom. At the start of the contest, each team is assigned a title for their film. Once their title has been assigned, each team can determine every other detail of their film, including format, topic, and genre. From there, all the carefully managed chaos of a movie set ensues, only condensed into one-hundred-and-twenty minutes of pure creative crunch.
Everyone's unique talents are tested in an all-out writing, acting, filming, and editing blitz. Audience members are encouraged to watch the event's progress by logging in to the Watch Party at 3:30 pm and view the submissions at 6:30 pm to vote for their favorite.
The winning team will be based on total votes by audience members. Each member of the winning team may choose one of the following as their prize, courtesy of the prestigious The Second City improv troupe: five drop-in Improv classes or a voucher for any online course at secondcity.com.
Review the info packet and register for the film challenge here.
Register for the Zoom Green Room (both participants and viewers).
See previous years' productions here.
The contest is free and open to the public. For questions and more information, please email [email protected].
About Scottsdale School of Film+Theatre
Widely regarded as one of the best film schools in the Southwest U.S., SCC's Scottsdale School of Film+Theatre features two-year hands-on programs that are exceptional and unique among the community colleges in Arizona. From the stage to the soundstage and all points in between, students are immersed in virtually every aspect of the film and theatre disciplines. Through both a theoretical and hands-on approach, each student leaves with not only a degree in their chosen field, but with a keen understanding of how their education is applicable in the professional world. For more information, visit SCC's Scottsdale School of Film+Theatre.