Thursday, September 28, 2023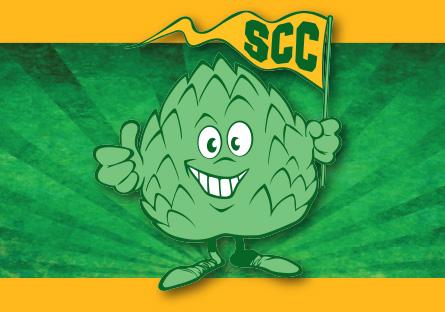 Celebrate SCC During Artichoke Spirit Week, Oct. 23-27
It's time to show off your school spirit and put on your Artichoke gear for all to see! Scottsdale Community College's Artichoke Spirit Week takes over campus from Monday, October 23, until Friday, October 27. The entire week will be chock-full of fun events and imaginative ways for you and your friends to celebrate SCC and the best mascot in all of higher education– the one and only Artie the Artichoke!
Students, Staff, & General Public Events
Monday, October 23
Express your Artichoke spirit by wearing SCC's official green and gold colors.
You'll want all the support you can get because "Artie Idol" takes place from 11:30 a.m. to 1:30 p.m., in the SC Cafeteria. SCC's favorite annual event is your chance to show off your singing (and perhaps dancing) skills on the open mic. Prizes will be awarded. Even if you're not performing, come cheer on your friends and fellow students.
Tuesday, October 24
Join students, staff, and faculty for our first "Give Back to SCC Day". There will be opportunities to join mini community service projects throughout this day. Whether you are an online student or working in person, you will have options that fit your needs and interests. For example: Volunteer at the Center for Native and Urban Wildlife, pick up trash around campus, write kind notes to others, or create your own mini project for something you are passionate about. This day is all about exemplifying what it means to be an Artichoke.
Sign up for Give Back to SCC Day
Wear a shirt or jersey that represents your club, athletic team or department.
Wednesday, October 25
Join the fun from 5 to 7 p.m, at our Fighting Artichokes Tailgate Party, in the Mercado space (next to the Fitness Center). Enjoy free hot dogs and burgers (first 200 attendees), DJ music, a party atmosphere, and more. Then, get your friends together and get the energy high to cheer on our team during the Home Volleyball game at 7 p.m., in the Physical Education building.
During this day, students are encouraged to create videos, tag SCC @scottsdalecc, and post on social media.
Thursday, October 26
Wish Artie a happy 51st birthday at his Birthday Bash celebration from 11 a.m. to 1 p.m. The party starts on the Student Center East Patio, so join SCC's clubs and the Council of Student Leaders for music, food, and lawn games as we wish Artie a happy birthday (it will certainly make him feel young again). Don't miss the epic Staff vs Students Tug-of-War.
Dress up as your favorite musician or wear a t-shirt with their logo.
Don't miss the Community Plant Sale sponsored by the Center for Native and Urban Wildlife, from 10 a.m. to 1 p.m. at the SCC Greenhouse.
Friday, October 27
Game Day in Artie's Cafe is going to round out Artichoke Spirit Week with some good old games and fun. Come chill in the cafeteria and play board games or trivia. Hang out on the East Patio and listen to music while you play lawn games such as Connect 4 and Corn Hole. Or show off your skills and join one of our foosball, pool, or chess tournaments. For our virtual or in-person friends, join our scavenger hunt app and answer questions all about SCC. The top three teams/individuals win a prize.
It's college day! Proudly wear apparel from your alma mater or the university you hope to transfer to.
Alumni Events
Monday, October 23
For SCC faculty and staff who are also alumni, start Artichoke Spirit Week off right with breakfast at the President's Patio & Administration Building conference room, from 8:30-9:30 a.m.
Wednesday, October 25
Celebrate SCC and the Lady Artichokes Volleyball team at a special tailgate party, from 5 to 7 p.m. at the Mercado (next to the Fitness Center). Then, attend the SCC Volleyball game at 7 p.m. in the Gymnasium and cheer on the Fighting Artichokes as they take on Phoenix College.
Thursday, October 26
All alumni are invited to attend the Inaugural Alumni Connections networking mixer and launch party from 5:30 to 7 p.m. in the Indigenous Cultural Center, rooms 221-222. In addition to networking with new and old friends and light refreshments, get a complimentary professional portrait taken (first come, first served), hang out with Artie the Artichoke, and much more!
Friday, October 27
Attend the "Noises Off" theatrical production by SCC students at 7:30 p.m., in the Performing Arts Center. A special pre-show social and networking event takes place from 6:15-7:15 p.m. in the Amphitheatre nearby. Enjoy reduced ticket pricing for alumni (use code: SCCALUM).
Alumni, please RSVP for all SCC Alumni events.
To learn more about SCC's Alumni Engagement Program, along with the benefits and opportunities offered to SCC alumni, visit Alumni & Friends.
Download the Alumni Events flyer.
Artichoke Spirit Week is put on by the SCC's Office of Student Experience and Leadership, which provides student-centered academic and cultural campus-wide events and engages in collaborative co-curricular programming with faculty and departmental staff, involving DEI (Diversity Equity Inclusion), Civic Engagement, and Service-Learning. Student Experience and Leadership is also the central location for support services and resources. For more information, visit Student Experience and Leadership.