Wednesday, January 12, 2022
Notice
This article appears for archival purposes. Any events, programs and/or initiatives mentioned may no longer be applicable.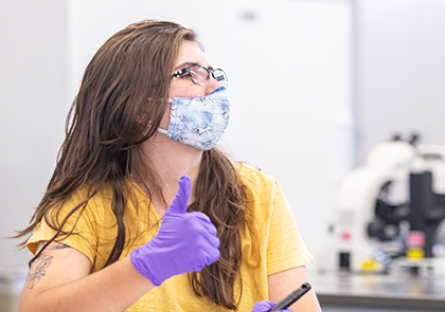 With the start of a new year, there are truly so many possibilities that await you at Scottsdale Community College. Whether this is your first semester here as a Fighting Artichoke or you are continuing your academic journey, everyone is excited you're attending SCC! Our faculty and staff have been working tirelessly to help ensure you are as successful as possible.
Because our Spring semester features many more in-person classes, we want to keep you up-to-date on what you can expect when on campus.
COVID-19 Safety/Security Protocols – Mask Up Artichokes!
SCC requires that all individuals – faculty, staff, students, and visitors – wear facial coverings while indoors at any of our facilities and practice social distancing (3 feet) when on campus. SCC strongly encourages employees and students to become fully vaccinated.
For the most current information, please see the COVID header at the top of every page on our website. SCC cares about you and your safety! If you are not feeling well, please do not come to campus.
Academic and Student Services are Fully Staffed
All of the existing academic and student services are open and staffed on campus. Hours of operation may vary by department. The Artichoke Grill, the Culinary Department student-operated restaurant opens, as usual, in mid-February.
For more information and to access services at any time remotely, visit the SCC Cares page.
Campus Changes
SCC is constantly updating its facilities to provide the best learning environment for students. When on campus, you will immediately notice new signage everywhere designed to help you reach your destination quickly.
The Central Plaza, located between the HES/SL and SBE/SBW buildings, has being transformed into a beautiful outdoor space with new landscaping, site lighting, sitting areas, shade trees and new concrete pathways. In addition, a new shade structure has been installed west of BUS/ICC in between IT and AP.
New Programs and Scholarship Opportunities
Debuting in Spring semester are:
iOS App Development Program
SCC is working with Apple to teach students the skills needed to develop apps for the ubiquitous iOS ecosystem. The "Everyone Can Code" curriculum developed by Apple is designed to give students with creative problem-solving skills the knowledge they need to bring an exciting new app to market or to take advantage of the increasing job opportunities in the tech field. Careers in software development are primed for a boom over the next decade, with the Bureau of Labor Statistics estimating a 22% increase by 2030 – nearly tripling the average growth rate. Learn more about the iOS App Development Program here.
SCC's Cannabis Business Program Offers Scholarships from Sonoran Roots
Sonoran Roots is offering scholarships for SCC students pursuing the popular Cannabis Industry Education program. Ten SCC students who are enrolled in the Introduction to the Cannabis Industry (WRKDEV420-101CA) course for the Spring 2022 semester will be eligible to receive $400 each, which covers the cost of the non-credit class. Learn more about SCC's Cannabis Business Program here.
Mercy C.A.R.E.S. Scholarships for SCC's Community Health Worker Program
The vital role that health workers play in our communities has never been as obvious as it is today – and the need for more trained professionals is equally apparent. That's why SCC is now offering a Community Health Worker program to create new career opportunities and forge stronger connections between people and their healthcare providers. Thanks to the generosity of Mercy Care, 10 $1,000 scholarships are available to students interested in pursuing the Community Health Worker program at SCC in the Spring 2022 semester. Learn more about Mercy C.A.R.E.S. Scholarships here.
It's Not Too Late to Register for Spring Classes
SCC offers many flexible start dates for Spring semester classes, and the 8-week block scheduling is very popular with students. Visit Find a Class to search for all available options. Find additional information on the Future Students page.