Notice
This article appears for archival purposes. Any events, programs and/or initiatives mentioned may no longer be applicable.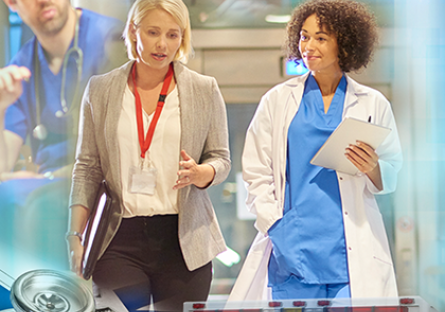 The vital role that health workers play in our communities has never been as obvious as it is today -- and the need for more trained professionals is equally apparent. That's why Scottsdale Community College (SCC) is now offering a Community Health Worker program to create new career opportunities and forge stronger connections between people and their healthcare providers.
Thanks to the generosity of Mercy Care, 10 $1,000 scholarships are now available to students interested in pursuing the Community Health Worker program at SCC in the Spring 2022 semester.
Mercy Care is a not-for-profit Medicaid managed-care health plan, serving AHCCCS members in Arizona since 1985. Mercy Care provides access to physical and behavioral health care services for Medicaid-eligible families, children, seniors, and individuals with developmental/cognitive disabilities.
Since 2016, Mercy C.A.R.E.S., the company's community reinvestment program, has provided more than $9.5 million across Arizona, including more than $3.5 million in the past year alone to organizations that address the company's comprehensive health focus areas of addiction, housing, school-based services, women's health and food insecurity. C.A.R.E.S. stands for Community Action Resources Education and Service.
Community health workers serve as an intermediary between a community and its members. This frontline public health worker knows the community they serve; they are acutely aware of their community's culture, and often engage in areas with more challenging health concerns. A community health worker provides expertise to those they serve by navigating, accessing, and advocating within the complex healthcare system. They help address barriers and facilitate connection or referrals to available social support services including food, housing, education, mental health, among other needs.
"By offering these generous scholarships to our students, Mercy Care is demonstrating the critical role that community health workers play in our community," said Chris Haines, Interim President of SCC. "We are thrilled that leading healthcare providers like Mercy Care are helping  SCC prepare students for future employment opportunities and without having to accrue debt associated with the pursuit of educational training." 
"Creating pathways and opportunities to increase the number of trained health care professionals is important for our Arizona communities," said Tad Gary, Mercy Care's Deputy CEO. "Through our Mercy C.A.R.E.S. program, we are continuing our ongoing commitment to address this important workforce need. We are thrilled to join forces with Scottsdale Community College to provide financial assistance to those seeking a career as a community health worker."
The goal of SCC's Community Health Worker program is to improve health outcomes while building capacity within the community, promote the population's long-term health, and reduce associated costs. According to the U.S. Bureau of Labor Statistics, community health worker roles are projected to be a rapidly growing field over the next decade, with a median annual wage of $42,000. The expected 17% growth rate in Arizona is more than double the national average, suggesting this position will be a lucrative entry point into a healthcare career.
The scholarships are available for the Spring 2022 semester; classes start Jan. 15, 2022. All applicants must be Arizona residents and must enroll in two to four Community Health Worker courses in the Spring 2022 semester. Apply for a Mercy C.A.R.E.S. scholarship.
The Community Health Worker classes are eight weeks long to accommodate diverse schedules. The inclusion of a work-based learning experience (internship/practicum) at a partner site that will allow participants to apply what they've learned in the classroom to the real world is a key part of the program. The training prepares students for a career in healthcare regardless of prior knowledge or experience and will give them the opportunity to network with professionals in the field.
Learn more about the Scottsdale Community College's Community Health Worker program.