Notice
This article appears for archival purposes. Any events, programs and/or initiatives mentioned may no longer be applicable.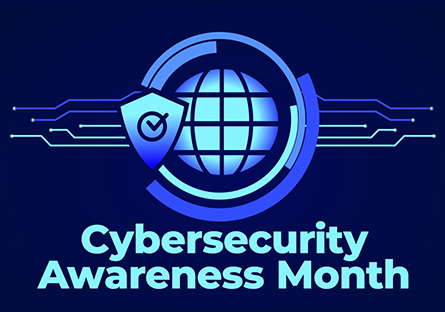 October is Cybersecurity Awareness Month, a global effort to help everyone stay safe and protected when using technology – whenever and however you connect. This year's theme is "See Yourself in Cyber." The National Cybersecurity Alliance has selected four key behaviors to help you #BeCyberSmart.
This is the perfect opportunity for you to review your online health. Scottsdale Community College (SCC) is proud to be a champion and supporter of online safety and education initiatives for all of our prospective and current students, faculty, and staff.
Key Behaviors to Stop Cybercrime
1. Use multi-factor authentication (MFA).
Multi-factor authentication (MFA), also called two-factor authentication and two-step verification, adds a layer of security by requiring users who are logging into an account to complete a two-step process to verify their identity. Measures can include third-party verification systems, PINs, security questions, and facial recognition, among others. Visit the MFA page for more information.
2. Use strong passwords (and a password manager).
What makes a strong password? A combination of factors. Make your passwords long, unique, and complex. They should be at least 12 characters long, completely unique from one another, and include a complex combination of uppercase and lowercase letters, numbers, and special characters. Password managers are pieces of software that generate and store your passwords. Learn more about password managers.
3. Keep your software up to date.
Updating your software and apps ensures you always have the most secure version of your product. The National Cybersecurity Alliance recommends automatic updates. The Alliance also cautions that you get the update from the source – don't click on a pop-up window to install your software. Learn more information about software updates.
4. Recognize – and report – phishing.
Phishing occurs when cybercriminals use fake emails, social media posts, or direct messages to steal your personal information. The goal is to get you to click a link or download a malicious attachment. There are a number of warning signs: the offer is too good to be true; the language is urgent or threatening; the sender is asking for personal information. If you notice a phishing attempt, you can block the sender and report it to your IT department. Get step-by-step instructions to block or report phishing attempts.
SCC students and employees can report suspicious emails and other cyber-related concerns directly to Information Security.
Launch a New Career Fighting Cybercrime
SCC's Associate in Applied Science (AAS) in Cybersecurity prepares you for a career dedicated to fighting cybercrime and securing networks, devices, and operating systems by teaching the practical and ethical skills needed to succeed in today's interconnected world.
Cybersecurity has a uniquely human element to it, in that cybersecurity professionals are the first responders to dangerous online situations like cyber-bullying, online fraud, and identity theft. This gives cybersecurity practitioners the opportunity to aid the victims of cybercrime both reactively and preventatively. Our Cybersecurity programs arm you with the offensive and defensive resources used in cybersecurity ecosystems and prepare you for the resulting moral, behavioral, and ethical ramifications. A career in cybersecurity can help you protect both individuals and your organization.
Cybersecurity Services for Current Students and Employees
In an effort to ensure online safety, SCC strives to continuously improve the security of the technology services we provide to students and employees. These measures include offering free antivirus software, providing secure remote access to shared file drives through MySCC, the ability to contact the SCC Information Security department for any cybersecurity concerns, and requiring multi-factor authentication for employees. Additional resources, including online best practices, are available on Maricopa Community Colleges District (MCCCD) website.
Cybersecurity Awareness Month is co-led by the National Cybersecurity Alliance and the Cybersecurity and Infrastructure Security Agency (CISA) of the U.S. Department of Homeland Security. Visit these sites for additional resources.