Tuesday, September 27, 2022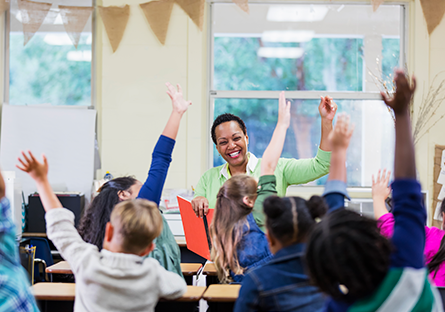 Briana Reed always dreamed of teaching. She knew the difference a committed and caring teacher could make in a student's life, but as a young undergraduate at university, the curriculum left her feeling like she wasn't up to the task. Her professors constantly stressed the immense responsibilities that would come with the job, but offered little in ways of support. So much to learn and so little guidance left her overwhelmed and intimidated. Reed changed majors, but her dream of teaching never faded.
Then she discovered STEP – the Scottsdale Teacher Education Partnership Post-Baccalaureate teacher certification program at Scottsdale Community College (SCC). STEP fast tracks teachers into the classroom through Arizona's only one-year certification model, which requires just a bachelor's degree – no master's degree needed! In a state with over 2,000 vacant teaching positions, the training is designed to quickly produce confident, qualified, and competent instructors ready to make a difference in the lives of K-8 students.
Reed is now in her fourth year teaching first grade at Yavapai Elementary and credits STEP for making it possible. "I'm so glad every day that I did it. It's my dream job, and I wouldn't be here without STEP."
Learning to teach can be difficult, and inadequate preparation is a top reason for new teachers leaving the field. STEP is designed to support new teachers through intensive one-year training that combines curriculum and in-class experiences. Students meet two nights a week with experienced professors to learn what it takes to manage a curriculum and a class. They also participate in a paid teacher-in-residence program that puts them in real classrooms to integrate their coursework with real-world opportunities to learn. As a result, students leave the program with education, training, and experience that isn't just theoretical, but practical.
"The professors in the program have been teaching for – at the very least – 17 years. Some have been teaching for 40 years. Every one of the instructors has experience in the classroom and experience coaching, so they know exactly how to prepare a new generation of teachers," says Mary Ellertson, STEP Program Director at SCC. Learning from seasoned professionals gives students an on-the-ground perspective of best practices and common pitfalls, so they are better prepared for the realities of the job.
The STEP program, now more than 20 years old, is widely recognized for its ability to produce ready-to-go teachers in half the time as traditional teaching certifications. "The program has a great reputation across the state. As a result, our candidates are highly sought after," says Ellertson. Four cohorts each year certify approximately 80 new teachers, and Ellertson estimates upwards of 95% are currently working in the field. With scholarships available from the AZ Teachers Academy that can reduce program costs to the price of textbooks, it's clear that the Post-Baccalaureate program is the fastest and most financially viable way to pursue a teaching career.
The training isn't exclusive to those able to attend SCC in person, either; STEP is partnered with every school district in Arizona and offers Live Online instruction so that anyone from Page to Nogales can start their classroom career.
"Just do it," Reed encourages anyone who feels the call to teach. "A year goes by in the blink of an eye."
Applications are open for the November cohort. To learn more, visit the STEP program.