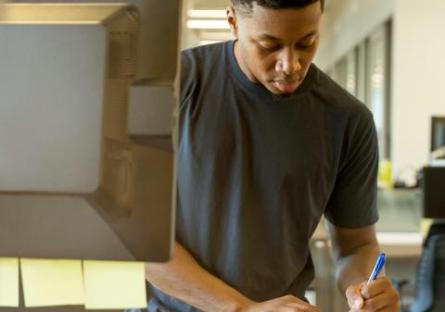 Representatives from the Open Education Committee and the Center for Teaching and Learning at Scottsdale Community College (SCC) asked students on campus to complete the statement: "If I didn't have to buy textbooks, I would spend my money on…"
Their responses:  $250 saved to pay for classes next semester; $400 to move out of their parents' house; $250 to take one's girlfriend on more dates; $100 to go shopping, and more. Their comments illustrate how the rising cost of textbooks directly impacts college students and contributes to the high cost of achieving a higher education. For most college students, even a few extra hundred dollars can make a noticeable difference in their quality of life. 
As part of the international Open Education Week, March 7-11, 2022, SCC is raising awareness of their "A to Z: Affordable to Zero Textbook Cost Degrees" program. Students can pursue an entire degree program that offers no cost or low cost (less than $40) textbooks throughout all courses within the program. Instead of requiring the purchase of expensive textbooks, SCC provides open educational resources (OER), low-cost instructional materials, library resources, and more as part of its academic content.      
From the 2021 to 2022 academic year, OER has saved SCC students a combined $400,000. Since 2018, students are estimated to have saved over $1,980,000. 
"Textbook prices should not be a limiting factor in the pursuit of higher education," says SCC Interim President Veronica Hipolito. "We strive to make sure that every degree program places students' needs first. The open educational resources are just one more thing we can provide to make students' academic lives more fulfilling."
According to the Education Data Initiative (EDI), textbook prices have risen over 1,000% from 1977 to 2015, and the impact on both students' time and their wallets is real. EDI reports that "when possible, nearly 66% of students will avoid buying course materials due to the steep prices". Findings from 2020 reveal that 25% of students worked extra hours to pay for their books. More than 10% skipped meals in order to scrounge up extra cash for materials. 
"I know students who struggle with everyday things such as buying groceries, having stable housing, and reliable transportation," said Karryn Allen, Co-Director of SCC's Dance Program. "While we can't help with these things directly, we're doing our best to eliminate extra costs associated with our courses to positively impact our students. Using no-cost and/or open educational resources instead of textbooks does this."
SCC currently offers five degree programs through OER, no cost, and low cost offerings. Anthropology, Sociology, and Exercise Science are low-cost programs. Dance offers no-cost OER, with the complete degree coming in at a low cost. Interior Design Technology is a fully no-cost learning-materials certification. 
OER are learning materials that are free to use, adapt, and share because they are either in the public domain or available under an open content license. OER can include full courses, course materials, content modules, textbooks, journals, and more, along with the software to support the creation, delivery, use, and improvement of open learning content. Instructors can customize their materials for the specific needs of their students and for students to share their learning resources with the world. 
SCC already offers one of the lowest tuition rates across Arizona at only $85 per credit, which translates into about $2,500 total annual tuition for a full-time student. This is significantly lower than the estimated $10,000 annual tuition required at local four-year state universities.
The Mathematics Department at SCC, for example, has been an early adopter of OER. Since 2012, they have transitioned 90% of their high enrollment courses to the use of no-cost OER materials and assisted approximately 40,000 students, saving them more than $4 million.
"Many of our faculty have authored materials, and we work to provide open or low-cost materials for as many courses as we can," said Dr. Donna Slaughter, Division Chair for SCC's Mathematics Department. "We find that students benefit from being able to access their materials right away on the first day of class, and avoiding the high costs that technical resources usually encumber allows them to spend their funds on other important things."
Learn more about Open Educational Resources (OER) for students at SCC.
View classes with low-cost and no-cost textbooks and resources for Summer and Fall 2022.
The images used in SCC's #OEWeek campaign are free and open-sourced. Social media graphics were assembled using Adobe Creative Cloud Express (formerly Adobe Spark), a free content creator.
Images used on social media:
Chair of books, black background: Photo by Debby Hudson on Unsplash;
Forest floor: Photo from Adobe Creative Cloud Express;
---
About Scottsdale Community College
Scottsdale Community College (SCC) is student centered with a focus on active, engaged and intellectually rigorous learning. The College is known for high quality, accessible educational opportunities and innovative teaching, learning and support services. SCC serves about 10,000 students a year, offering more than 100 degrees and 60 certificates of completion in diverse occupational areas. At only $85 per credit hour, SCC is one of the most affordable colleges in Maricopa County, and the average class size is only 16 students. Through a partnership with the Salt River Pima-Maricopa Indian Community, SCC is honored to be the only two-year public higher education institution located on Native American land. For more information, phone (480) 423-6700.