Notice
This article appears for archival purposes. Any events, programs and/or initiatives mentioned may no longer be applicable.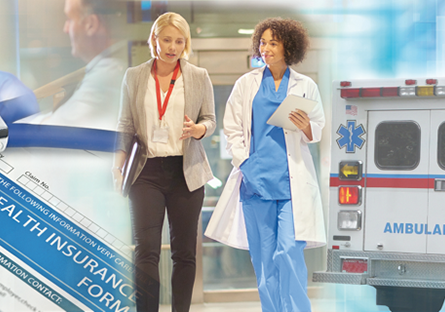 Recognizing the growing need for care coordination and patient navigation across a complex health care system, Scottsdale Community College is now offering a Community Health Worker certificate of completion (CCL) program, starting in the Fall 2021 semester.
The 15-credit program is designed for individuals new to the health care field and those already in the health care field who wish to grow their capacity to support community-oriented health systems.
A community health worker is a liaison who helps patients access community services specific to their needs. They also support medical providers by creating community outreach programs designed to promote, maintain and improve the health of patients through social support and individual counseling. Community health workers play an important role in addressing the social and behavioral determinants of health within their communities by building trust and relationships and enhancing community between patients and health care providers.
Between 2020 and 2030, job opportunities for community health workers are projected to increase by 28% in Arizona, according to O*net, which is significantly higher and more than double the projected increase nationwide. Students who complete this program will be prepared for employment in a variety of health industries, including public health, ambulatory clinics, hospitals, insurance companies, and a variety of local, municipal and non-profit agencies that serve the community, especially in roles focused on community-based care coordination or patient navigation.
"The Community Health Worker program at SCC aims to better connect students – especially those from underrepresented populations in health care – with access to learning opportunities and practical experiences supporting patients in the community," said SCC Program Director Pooja Paode. "The program provides an excellent pathway into the field of health care and the many opportunities for career growth."
Paode brings extensive experience leading and engaging in cross-sector collaborations, programmatic development, and strategic planning for a variety of community-based health initiatives. Paode has earned a Bachelor's degree in Neurobiology, Physiology, and Behavior; Master's degree in the Science of Health Care Delivery, and a Master of Public Policy, all from Arizona State University.
The first two courses within this program, Introduction to Public Health (IPH101) and Introduction to Patient Navigation (IPH105), will be offered in the Fall 2021 semester. Additional courses include Health Communication, Healthful Living, Chronic Disease Management, Introduction to Mobile Integrated Health Care, Intermediate Medical Terminology, and Health Care Spanish. The program also requires a Patient Navigator Practicum that gives students valuable real-world experience so they can stand out when applying for internships and jobs.
In addition to low tuition of $85 per credit hour, students in the Community Health Worker program will have little to no textbook costs, providing substantial value when obtaining this certificate at SCC.
IPH101 starts Oct. 26, and IPH105 starts Oct. 27. Contact us today to register.
Enroll today by clicking the Enroll Now button below and follow the steps. Register for Introduction to Public Health (IPH101, Class #37940) and Introduction to Patient Navigation (IPH105, Class #37942). If you need assistance, click the Learn More button to be connected with the program director.