Monday, September 13, 2021
Notice
This article appears for archival purposes. Any events, programs and/or initiatives mentioned may no longer be applicable.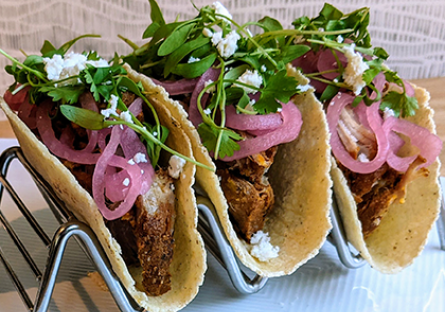 Looking for culinary delights usually found at a 4-star resort or upscale restaurant, or great values only available during Arizona Restaurant Week? Scottsdale Community College's Artichoke Grill reopens for lunch service starting Sept. 21 offering the best in culinary fare and value.
Operated entirely by students in SCC's Culinary Arts program, the menu features soups, salads, sandwiches, grill items and desserts. Each week offers a new set of food options reflecting the program's diverse instruction and learning objectives.
The Artichoke Grill is re-starting in-person dining after being closed due to the pandemic. Mark Dow, SCC's Culinary Arts program director, said the biggest challenge during the shutdown was "not working directly with students in what is a very tactile teaching and learning environment."
"Our excellent faculty worked around this by providing live lectures and hands-on demonstrations with our students in a virtual platform. All of the ingredients were supplied to students on a bi-weekly basis so they had everything needed to complete each lesson plan. I'm proud to report that many students thrived in the remote-learning environment."
Dow is looking forward to welcoming back many repeat customers of the Artichoke Grill, some of whom have sent emails of support during the shutdown.
"We will work with a smaller team than normal which may limit dining capacity, though this will provide for a more personalized educational opportunity with a greater attention to detail and the fundamentals of our tradecraft," he added.
Lunch service runs from 11:45 a.m. to 1 p.m., Tuesdays thru Fridays, during Fall semester. Reservations are recommended.
For additional information about the Artichoke Grill, including menu, reservations and hours of operation, visit the Artichoke Grill.
SCC's Culinary Arts program helps train students who wish to become culinary industry professionals for diverse food service operations. Coursework focuses on preparing casual and upscale cuisine for a variety of services, including full-service, buffet, banquet and a la carte, and students rotate through all areas of food preparation. Multiple degree and certificate programs are available in culinary arts, culinary fundamentals, and commercial bakery and pastry arts. Learn more here.