Notice
This article appears for archival purposes. Any events, programs and/or initiatives mentioned may no longer be applicable.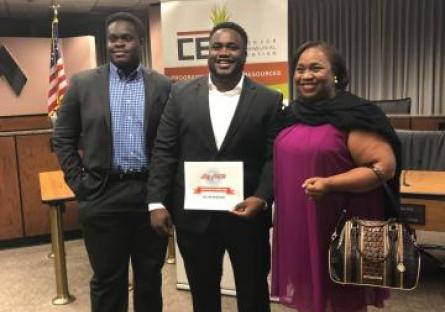 (Scottsdale, Ariz.)  When Wilson Okwuobu enrolled in Scottsdale Community College's Business School, he was not expecting to be the winner of $20,000 in cash and business services two months later.  That's exactly what happened when Okwuobu won The Big Pitch.   
The Big Pitch is a student entrepreneurship program run by the Center for Entrepreneurial Innovation (CEI), a business incubator located on the Gateway Community College Campus. One of the program's goal is to help one student from MCCCD launch their business and get into revenue.  In addition to cash and business services Okwuobu earned access to CEI's business advisers, investors, private events, and facilities.
The Big Pitch competition was open to all Maricopa Community College students across the district. Each college sent a representative to the competition.  Okwuobu will represent Scottsdale Community College and the District at state-wide competition where additional cash and business services are prizes. Okwuobu, who hopes to transfer to Arizona State WP Carey School of Business, credits his faith, family and SCC for the opportunity.
"I am extremely excited to have made my family and SCC Business School proud. I am also thankful to all who made this possible and especially my adviser" said Okwuobu.
Lisa Farmer, Okwuobu's adviser and faculty at SCC's business school, was impressed with his idea. "Wilson's innovative business concept, progressive entrepreneurial spirit, and strong work ethic made him the stand-out candidate in the Big Pitch Competition.  I am so proud of his effort and determination."
Scottsdale Community College's Business School currently offers degrees and certificates in Accounting, Business Administration, Management, Marketing, Retail Management, Real Estate and Social Media Marketing.  Future programs include Entrepreneurial Studies, Tax Preparation and Human Resources.
Scottsdale Community College is nationally recognized for its quality academics, service learning & leadership, civic engagement and innovative educational programs, which include university transfer, undergraduate research, career and technical programs and workforce development. The college serves about 10,000 students annually, offering more than 80 degree and certificate programs. SCC is one of 10 colleges that comprise the Maricopa County Community College District.
###
CONTACT: Lisa Farmer, Faculty
Scottsdale Community College Business School
[email protected]
480.425.6759