Center for Native and Urban Wildlife Exhibits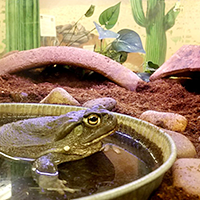 Home to our collection of Arizona wildlife, including Gila Monsters, Desert Tortoises, and Toads, of course. Open to the public during our open house hours and scheduled visits.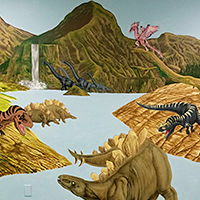 See how life has changed over the eons right up until recent extinctions in Arizona. Discover what caused major extinction events in the past and how our actions today are affecting extinction rates. Features replicas of dinosaur fossils, a mural, and a softshell turtle, a species that has persisted through multiple mass extinctions.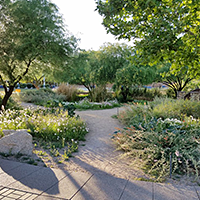 The gardens woven throughout campus showcase the beauty of native landscaping. They have been listed in the Phoenix New Times and are Certified Wildlife Habitat by the National Wildlife Federation for the resources they provide to wildlife. Look for signage describing the trees, shrubs, cacti, and biomes. At the center of campus, you can find cool respite in a mesquite bosque surrounding our pond. Look for four endangered species in and around the pond.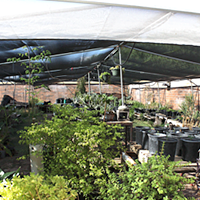 The greenhouse is the site of multiple projects including plant propagation for classes and restoration, and research like seed bank studies. It is the hub for our major fundraiser – a biannual plant sale.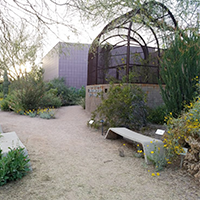 The Pavilion houses Desert Tortoises and Chuckwallas. Our native Desert Tortoise can make a great pet if you provide the right diet and environment. Captive tortoises are often in need of caretakers through the AZ Game & Fish Tortoise Adoption Program.
The Prop Yard, located near the community gardens, gives us plenty of land to conduct research and grow plants for restoration work. We use the tall pot method for desert trees, which allows plants to establish tap roots and boosts transplant success. We also grow out milkweeds for monarchs, and assist with research in desert biological crusts.