Wednesday, April 26, 2023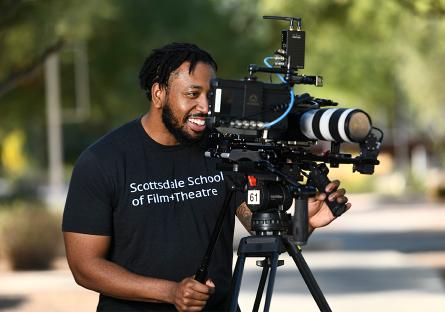 The Scottsdale School of Film+Theatre (SSFT) has been named one of Variety's annual top film schools* in North America for 2023. As a trusted and influential news source for the entertainment industry, Variety's recognition of SSFT as one of the country's best programs validates the high-quality, hands-on instruction the school prides itself on.
"We're honored to receive this recognition from Variety," says Scottsdale Community College (SCC) President Eric Leshinskie. "For an industry-leading news source to declare their admiration of our program should confirm to students, faculty, and the community the amazing educational resources and opportunities that exist on our campus."
"The Scottsdale School of Film+Theatre proudly trains actors, writers, editors, and directors to  make their mark on the industry," says Bill True, Department Chair for the Scottsdale School of Film+Theatre. "It's an honor to receive this acknowledgment from Variety that the excellent work our faculty and staff do on behalf of our students is considered among the best in America."
A part of SCC, SSFT has a longstanding reputation for being the premiere film school in the Southwest and one of the most sought-after programs for film production education. SSFT integrates film production into its rigorous curriculum from day one. The two-year occupational-focused program brings a unique focus to hands-on, practical experience that prepares the next generation of local and Hollywood industry professionals in Production, Screenwriting, and Post-Production.
Students receive top-notch training in the craft and business of filmmaking from working industry professionals, and typically participate in key production roles on up to ten short films before they graduate, giving them a strong portfolio to use as they pursue their careers. As a result, students are coveted by the local production community, with an average of 85% of graduates placed in local jobs or internships each academic year. Alumns are also a fixture across the Hollywood production landscape. They hold key positions on sets, in writers' rooms, and in post-production facilities for major studios and networks and for numerous media and production companies in Los Angeles and other major markets.
SSFT's equipment warehouse is on par with top professional rental houses in Arizona, with pro-level cameras, lighting, and equipment. The program's $2.5 million arsenal of industry-standard equipment prepares students for the demands of real-world productions. 
In addition, as Arizona continues to attract major film production opportunities to the state, the Arizona Commerce Authority (ACA) has partnered with the SSFT to train local talent to fill openings as production assistants. Arizona's film industry has seen an influx of large-scale production inquiries. To build on these successes and prepare for future opportunities, the Production Assistant Certification program at SCC is expected to train more than 2,000 production assistants over the next five years, creating a talented workforce that will keep Arizona talent – and dollars – in the state. 
To learn more about the Scottsdale School of Film+Theatre, visit their website.
* "Entertainment Education Impact Report: Discover Top Film Schools and Educators in North America," Variety, May 1, 2023.