Thursday, January 12, 2023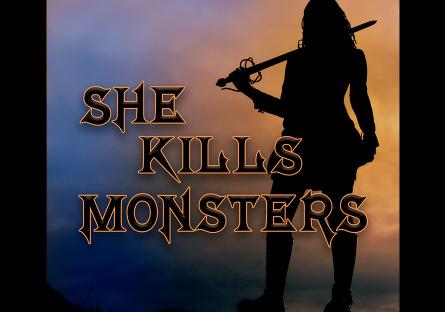 Mix the heartbreak of a broken family with the outlandish fantasy fun of Dungeons & Dragons, and what do you get? She Kills Monsters by Qui Nguyen, this spring's theatre production from the Scottsdale Community College (SCC) School of Film+Theatre. With six performances from March 3 to 11, 2023, you won't want to miss this high-octane dramatic comedy laden with homicidal fairies, nasty ogres, and 90s pop-culture-inspired fantasy that offers a heart-pounding homage to the geek and warrior within us all.
Agnes Evans is a quiet, ordinary woman living in 1990s Athens, Ohio, who wishes something – anything – interesting would come and spice up her drab life. Unfortunately, she gets her wish when her parents and much younger sister, Tilly, die in a car crash. Reeling from the loss, Agnes finds something precious to Tilly, whom she hardly knew, while cleaning out the house: a Dungeons & Dragons campaign that she wrote. Together with her friends, Agnes embarks on the adventure Tilly created to connect with the sister she'll never again have a chance to know. Bouncing between the real world and the fantasy one, Agnes explores the landscapes of her late sister's mind, discovering deeply personal truths and finding untapped strength when she needs it most.
Performances are scheduled for the following dates:
March 3, 4, & 10, 2023, at 7:30 pm
March 4 & 11, 2023, at 2:00 pm
March 10, 2023, at 11:00 am (High School Matinee)
"She Kills Monsters is a story about how our art can reveal the deepest truths of ourselves and how those truths can inspire friends, family, and even strangers," says Director Ron May. "Watching these characters explore the difficulties and complexities of coming out as an LGBTQ+ person is poignant, yet fun and thrilling, when set in this fantasy landscape. It shines a light on the hero within us all."
May is an accomplished director, having helmed dozens of productions across his long career. As the Founding Artistic Director of Stray Cat Theatre in Tempe, he strives to push the boundaries of contemporary theatre and create visceral new experiences for his audiences. "He was named a finalist for the 2018 Zelda Fichandler Award, recognizing an individual who has made, and who continues to make, a significant contribution to their community through extraordinary work in theatre in the Western region of the United States…" according to Stray Cat Theatre. "He was also nominated as an Artist for the 2019 Governor's Arts Award and in 2021 received the Trailblazer Award by City of Tempe Neighborhoods."
Nguyen is a prolific playwright and an emerging voice in entertainment, having moved through the ranks of Marvel Studios to now be a fixture at Walt Disney Animation Studios. His recent writing credits include Raya and The Last Dragon and 2022's Strange World.
Admission is $15 for the public and $10 for SCC students. Click here to purchase tickets. For more information, contact Amanda Embry at [email protected], or call the box office at 480-423-6356.
About Scottsdale School of Film+Theatre
Widely regarded as one of the best film schools in the Southwest U.S., SCC's Scottsdale School of Film+Theatre features two-year hands-on programs that are exceptional and unique among the community colleges in Arizona. From the stage to the soundstage and all points in between, students are immersed in virtually every aspect of the film and theatre disciplines. Through both a theoretical and hands-on approach, each student leaves with not only a degree in their chosen field, but with a keen understanding of how their education is applicable in the professional world. For more information, visit SCC's Scottsdale School of Film+Theatre.