Tuesday, January 31, 2023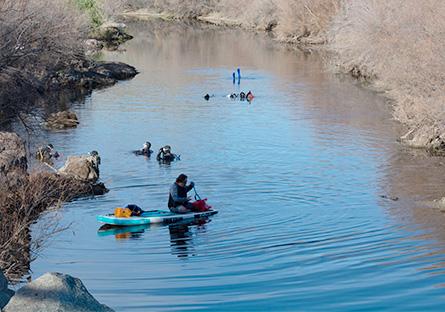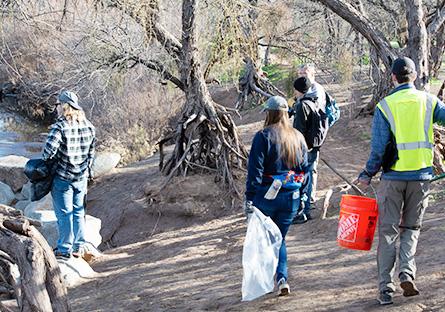 Kicking off the National Football League's 2023 Green Week, community partners from across the Valley joined hundreds of volunteers on the morning of Jan. 21, at the Phon D Sutton Recreational site, where the Verde and Salt Rivers converge. Kayaks slid into the chilly water, professional divers checked their gear, and volunteers piled into vans to begin a widespread cleanup of the Lower Salt River that ultimately removed over 7,000 pounds of trash.
"It was impressive; we had a really nice turnout," says Dr. John Weser, Executive Director of the Center for Native & Urban Wildlife at Scottsdale Community College (SCC), who spent the morning checking in volunteers before heading out to help the cleaning efforts. "It's an area that we have visited as a Biology department for 30 years on field trips, so we feel a really strong connection with that place." The Center for Native and Urban Wildlife (CNUW) was one of ten partners in the clean-up project, bringing volunteers and decades of ecological expertise. CNUW is a part of the Biology department at SCC, and since 2000, they have made it their mission to teach students and the community at large about conservation biology and the incredible biodiversity of the Sonoran Desert.
The NFL's Green Week is designed to mitigate the environmental impact of its major events and make a lasting difference through grants and community partnerships. OdySea Aquarium, a lead organizer on behalf of the Super Bowl Committee, NFL Green and Force Blue (a nonprofit that provides "mission therapy" for former combat divers by retraining, retooling, and deploying them on missions of conservation, preservation, and restoration), has enjoyed a long-standing collaboration with CNUW, so Dr. Weser and his biology students jumped at their invitation to participate in one of the largest Green Week events yet. Other conservation partners included Verizon, Natural Restoration, Phoenix Zoo, APS, Footprint, and the U.S. Forest Service.
"The Salt River is not only ecologically important because it's a ribbon of life that winds through the desert, but it's also our water supply," says Weser.
Cleaning the Salt River of trash helps protect one of Arizona's most vital drinking water sources and critically important wildlife corridors that are home to nesting Bald Eagles, river otters, and numerous other species. But an issue that is much smaller to the eye yet no less threatening also needed to be addressed: apple snails. As an invasive species, these snails can outcompete native mollusks and quickly overpopulate due to the lack of natural predators. They also eat vegetation and algae, meaning these small snails can have an outsized effect on this delicate ecosystem.
"It can change the community structure of the plants and animals that live there. That's the danger," says Weser.
Volunteers walked the river and cleaned up 7,849 pounds of trash while Force Blue divers removed 434 adult apple snails and 320 egg masses, helping stabilize the ecosystems throughout the riparian areas around the Salt River.
"You're removing an invasive species, educating the public, and helping the public actually do something about it. Our students felt like they made a difference. That's what an event like this should be about," says Weser.
Arizonans can look forward to the big game knowing that 60 minutes of football in Glendale has helped make a positive impact across the Sonoran Desert, thanks to the NFL, OdySea, CNUW, and many others.