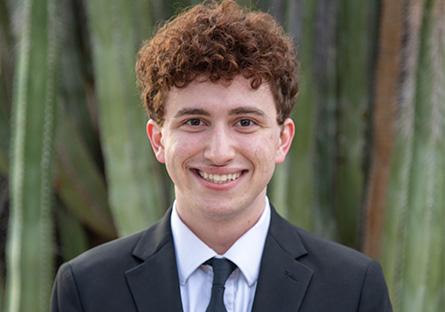 Scottsdale Community College (SCC) proudly announces that our very own Matthew Peagler has been elected as the 2023-2024 Collegiate DECA Executive President. This international position is a tremendous honor and an important responsibility for our fellow Artichoke.
If you don't know, "DECA prepares emerging leaders and entrepreneurs for careers in marketing, finance, hospitality and management in high schools and colleges around the globe" through classes, projects, business partnerships, and competitive events, according to its website.
As President, Peagler and his executive officer team develop and implement a program of leadership that defines their goals for the year. They are also responsible for leading national and international professional and career development conferences, as well as assisting associations and chapters whenever needed.
"This role means so much to me, and I'm so excited to work with our amazing team," says Peagler. "There are a lot of goals that we'd like to accomplish, and we look forward to announcing them soon!"
Peagler is a 20-year-old Scottsdale native who joined DECA during the 2020-2021 school year as a Desert Mountain High School senior. The program was entirely online due to COVID-19, but Peagler says he enjoyed every aspect of the program and felt passionate about continuing with DECA after high school. DECA allows him to connect with like-minded people: "The competition, team building, and networking are just a few of the things I enjoy most."
But when he started at SCC, he found himself the sole member of the club. Rather than be deterred, Peagler saw it as an opportunity to build SCC's chapter from the ground up. Along with his faculty advisor, Kym Polser, Peagler went to Business program classrooms, attended club fairs, and worked diligently with the Council of Student Leaders to build the chapter and recruit bright new talent.
Rebuilding the chapter left a lasting impact on Peagler. "I got to learn firsthand that it may be difficult at times, but with the right support and constant positivity, anything is possible!"
DECA designs its leadership positions to mirror what one might find in a corporation's leadership structure. As International Collegiate DECA Executive President, Peagler will have the opportunity to act as a top executive and direct the immediate vision and growth of the organization. When asked about the most essential trait for someone in his position, Peagler responded, "Passion. Passion to help the members, chapters, associations, and organizations in any way possible. One of my favorite experiences in this journey was the chance to caucus with voting delegates. Hearing their stories and why they joined DECA was so inspiring."
"There are so many people to thank that I'm not sure where to start. First and foremost, my advisor Kym Polser for always pushing me to go beyond; Elizabeth Kulaga and Darcie Hill for helping me along every step of the way; our chapter at SCC for the constant encouragement; the association of Arizona for connecting me with so many new friends that I'll be connected with over a lifetime."
The biggest piece of advice he could give to other students hoping to follow his trajectory is to take the leap forward, regardless of how scary it may be or nervous they feel. "You never know how strong of an impact it could have on your life if you don't try."
Peagler will be graduating with his Associates in Arts at the end of the spring semester before transferring to W.P. Carey at ASU, where he will pursue a major in Business Communications. SCC is proud to see one of its students be recognized for their hard work and dedication, and we're excited to see all that he will accomplish in his new role as the Collegiate DECA Executive President. Congratulations, Matthew!