Thursday, January 12, 2023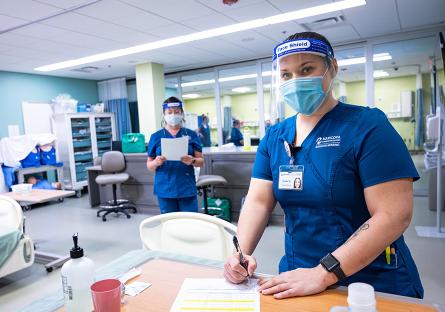 As part of a centuries-old tradition, 38 of Scottsdale Community College's (SCC's) nursing students recently participated in the Nurse Pinning Ceremony to celebrate their graduation. Along with friends, family, faculty, staff, and community partners, these dedicated students had the chance to rejoice in their success while partaking in a rite of passage almost a thousand years old. 
While graduation marks the end of one's academic journey, the pinning ceremony symbolizes the official transition from student to nurse. It's a special moment to reflect on what it means to enter such a selfless and essential field and to celebrate all the hard work and commitment it's taken to reach this point. Nursing Director Debbie Dollmeyer thanked all those in attendance who contributed to and shared in the nursing students' success stories, saying that "it takes a village to raise a nurse." 
The pinning ceremony is closely associated with perhaps the most famous nurse of all time, Florence Nightingale. Widely regarded as the founder of modern nursing, Nightingale revolutionized the profession during her work throughout the Crimean War in the 1850s, where she cared for wounded soldiers, trained new nurses, and made drastic improvements to hospital hygiene that ultimately saved innumerable lives. She received the Red Cross of St. George in recognition of her efforts during the war and chose to share the honor by presenting a medal of excellence to her brightest graduates. Eventually, she opened the Nightingale School of Nursing at St. Thomas Hospital in London. She continued the tradition by awarding a badge with a Maltese Cross to all nurses who completed their program.
The importance of the Maltese Cross goes back to the 12th century when medieval knights who aided the sick and infirm were given a Maltese cross to wear. Through the pinning ceremony, new nurses tie themselves to a millennium of service to those in need and have a special moment to recognize the importance of the work they've committed themselves to. 
SCC's nursing school is recognized as a top-five program statewide, according to RegisteredNursing.org. There's no doubt that these graduates will soon be making amazing contributions to the healthcare community.
Learn more about SCC's nursing program.