Monday, September 11, 2023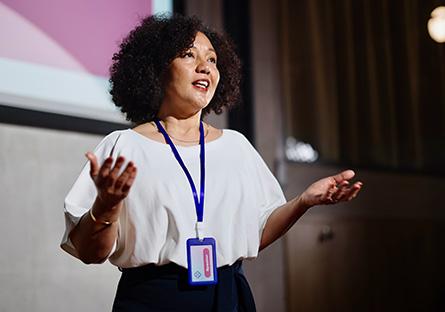 Scottsdale Community College (SCC) is excited to announce a new partnership with the Scottsdale Area Chamber of Commerce that makes SCC the lead partner and sponsor of the Chamber University Program Series. Members of the Scottsdale Area Chamber of Commerce will now have the opportunity to continue their professional development with the support of SCC's expert faculty and other local professionals through educational seminars every other month.
"Scottsdale Community College has demonstrated its commitment to furthering unique educational opportunities in Scottsdale that help develop and advance the workforce in our community," says SCC President Eric Leshinskie. "With the many cutting-edge businesses that the Scottsdale Chamber counts among its members, we're thrilled to have the opportunity to share our accomplished faculty's insights directly with these professionals."
"Partnering with Scottsdale Community College to build on our Chamber University speaker series will be a great benefit to our business community," said Mark Stanton, Scottsdale Area Chamber of Commerce President. "The Chamber continually looks for subject matter experts to help businesses in various areas of marketing, sales, IT, and other best practices to grow business opportunities." 
Chamber University offers exclusive access to industry-leading speakers who bring the newest insights into the skills and domains that matter most to businesspeople in Scottsdale. From the latest trends in technology and marketing to productivity and performance-boosting skills, these educational events are designed to provide Chamber members a competitive edge through knowledge sharing by local business professionals and the SCC faculty.
SCC's robust network of connections throughout Scottsdale's business landscape gives its faculty a unique ground-level view of the challenges and opportunities that Chamber members face at any given time. This expertise, combined with SCC's agile content development, will allow for focused and relevant sessions of Chamber University that center on applicable trends and up-to-date opportunities for professional development. 
The first Chamber University event will be held from 3:30 p.m. to 5 p.m., on Oct. 25, 2023, at SCC's Indigenous Cultural Center. The topic is "Data Analytics: Data-driven decisions - where does data come from, how do you use it, what tools can you use easily," presented by Dr. Sheila Brandt, SCC Computer Information Systems Professor.
For more information, visit Scottsdale Chamber of Commerce Educational Events.