Thursday, September 14, 2023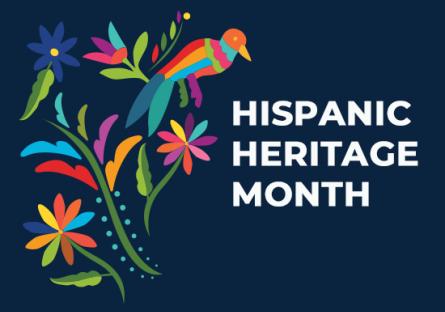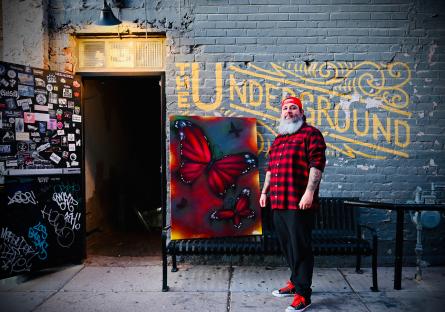 National Hispanic Heritage Month, which runs from September 15 to October 15, recognizes and celebrates the histories, cultures, and contributions of individuals who came to the U.S. from Spain, Mexico, the Caribbean, and Central and South America. This annual event started in 1968 as a week-long celebration; in 1988, Hispanic Heritage Week was expanded to an entire month.
Scottsdale Community College (SCC) proudly celebrates Hispanic Heritage Month with a series of engaging activities for students, faculty, staff, and the larger community. All events are free of charge.
---
Wednesday, September 27, 2023, 11 am - 1 pm
Live Mural Demonstration and Aztec Dance Performance
Location: East Patio
Live mural demonstration with local artist, Adrian "AWER" Garcia. Join Adrian as he paints a mural depicting Hispanic Heritage Month and the Hispanic culture.
He is a Phoenix, AZ-born street artist and curator who specializes in graffiti and large-scale mural painting. His style is influenced by his love for both realism, and abstract art. Garcia was first introduced to the creative process at the age of nine through a family member who gave him a drawing. Then at the age of 17, he discovered the vast world of street art. 
He has been motivated to continue his art journey through the love and support of his daughter and is continually inspired by his two young grandsons.
When either working from his studio on a canvas painting or out in the field on a monumental-sized wall, he prefers spray paint, paint markers, and acrylic as his mediums of choice. His murals can be seen all over the Valley, and he has been commissioned by Amazon, Walmart, and the US Military for murals in their facilities. He also spends his time curating a rotation of artists painting live, himself included, at a local Phoenix coffee shop, Tres Leches Café, and activates artists at the Almeria Mural Alley in conjunction with the Oak Street Mural Alley in the historic Coronado District in Phoenix.
Additionally, the Mitohtiliztli Huehuetlalli will be offering prayers for the SCC community through the sharing of culture and movement with danza azteca.
The Mitohtiliztli Huehuetlalli are a part of the Calpoalli Tlacahuatzin in South Phoenix. Their nonprofit is the Cihuapactli Collective which supports urban Indigenous families from womb to tomb through a variety of offerings based on healing through culture and traditional knowledge.
---
Tuesday, October 17, 2023 - Friday, November 3, 2023
Hispanic Heritage Month Library Guide and Dia de los Muertos book display
Location: SCC Library
Visit the SCC Library's Hispanic Heritage Month book display, featuring a collection of books highlighting the Hispanic experience and culture.
---
Monday, October 30 - Thursday, November 2
Location: LC Building Lobby
Sponsored by the Tutoring Center and World Languages Department
The Writing Center and World Languages Department will be hosting their annual Dia de los Muertos ofrenda. An ofrenda is an altar set up in remembrance of loved ones who have died and is an important part of the Dia de los Muertos (Day of the Dead) holiday.
This year, the related Calaverita poem contest is open for staff and students even if they are not enrolled in a Spanish Class. Please call the writing center to set up an appointment in case you need some help with your poem. You can submit your Calaverita from October 15 until noon on October 30. Please send it to the [email protected]. Our altar will be set up at the LC building lobby reception from October 30 to November 2nd.
On November 4th SCC's community is invited to participate in our first Community Ofrenda del Dia de los Muertos as part of the Artie Palooza festival. Bring flowers, photos, and /or candles to let your departed family, friends, or pets know you are still thinking of them
---
Saturday, November 4, 2 - 4 pm
Maskmaking Workshop with Zarco Guerrero
Location: TBD
Sponsored by the Art Department and Office of Student Experience & Leadership
Join sculptor, mask maker, and performance artist Zarco Guerrero for a live mask-making workshop. Zarco will share the significance of mask-making and Dia de los Muertos.
Zarco's art includes music, poetry, and theater. He is the founder of Xicanindio Artes (now Xico, Inc.), the Cultural Coalition, Inc, and has been instrumental in the development of Latino Arts statewide. He has dedicated his artistic endeavors to creating positive social change through the arts and adopted Cesar Chavez ideology of art as a social service.
He has exhibited and received international acclaim and many prestigious awards.
In 1985 PBS broadcast a one-hour documentary about his art entitled "The Mask of El Zarco". He received the Japan Fellowship from the National Endowment for the Arts, The Arizona Governors Arts Award, the Artistic Excellence Award from American Hispanics in Higher Education, and the Esperanza Teacher of the Year Award, among many others.
He also won the 2012 Zony Award for his groundbreaking work as a mask maker in Childsplay's 2011 production of "The Sun Serpent." He is the recipient of a Doris Duke Foundation grant to present theater to Latino communities in Arizona.  In 2015 he was recognized as a Master by the Southwest Folklife Alliance.  The New Times named him "Best Storyteller" in 2016. In 2017 he was chosen to design the Light Rail Station at Baseline and Central Avenues in Phoenix.
---
Interested in attending these events? Complete this interest form to get event updates.