Tuesday, September 26, 2023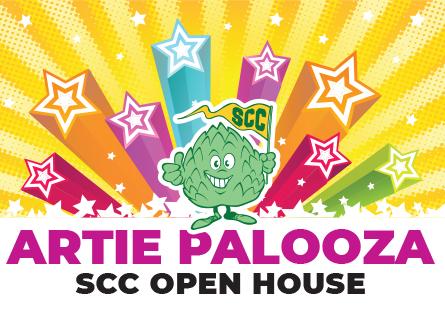 Scottsdale Community College (SCC) is thrilled to host an Open House community event that promises a day of excitement, exploration, and entertainment. Dubbed "Artie Palooza" in honor of SCC's beloved Artie the Artichoke mascot, this free outdoor festival invites the public to experience the vibrant SCC campus and discover the wide array of academic programs and student services offered.
Saturday, November 4
2 p.m. to 5 p.m.
Two Waters Circle on the SCC campus.
Free and open to the public.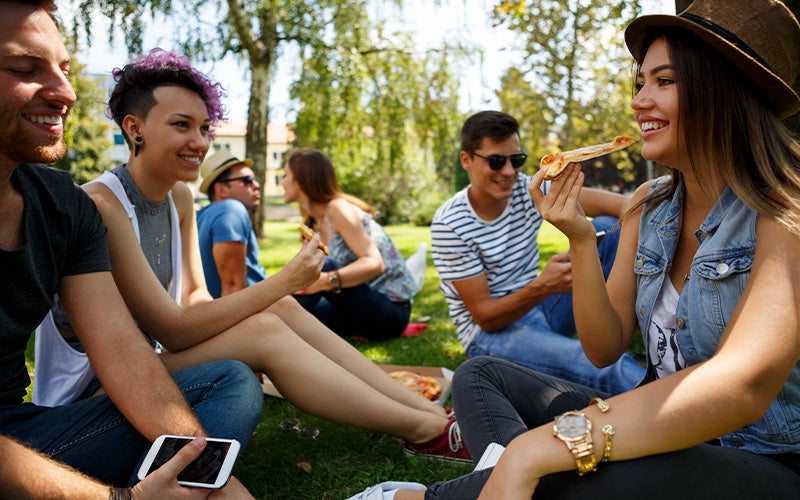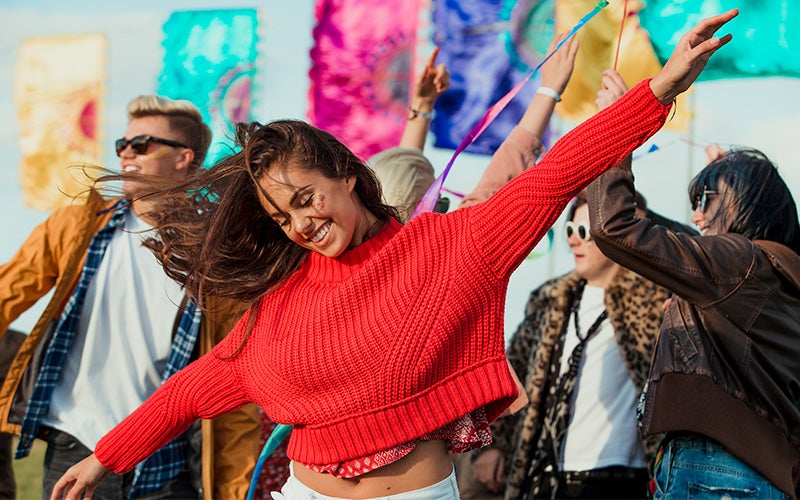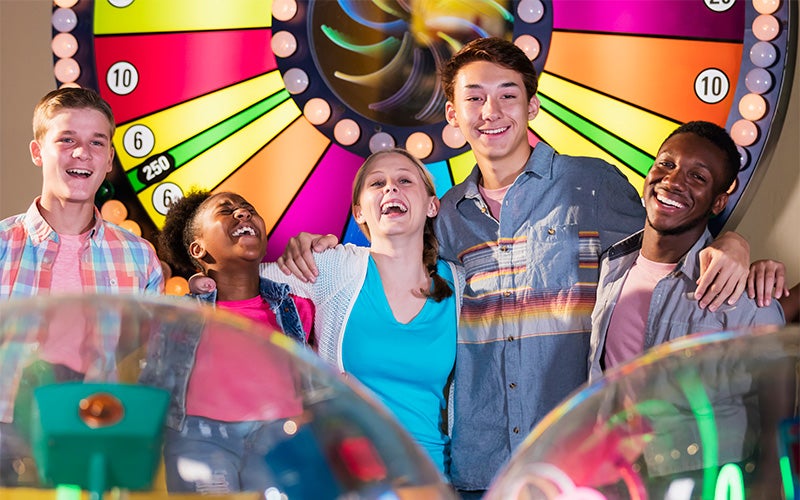 Art
Unleash your creativity and make a mask. Join renowned sculptor, mask maker, and performance artist, Zarco Guerrero. He is devoted to using his artistic talents to inspire positive social change through various artistic mediums. 2-5 p.m., Art Building
Delve into the world of photography and cyanotype bandanas. Discover the beginnings of photography and experiment with creating your own unique cyanotype bandana. 2-5 p.m., Art Building
Scratch block molds will be available for you to design and carve your own 5"x5" tile in a block of sand, that will later be poured at the Iron Pour beginning at 4:30. Because iron pieces will be too hot to take home that day, participants can drop by the following Tuesday or Thursday to pick up their piece. 2:30 p.m., Art Building
View the awe-inspiring Iron Pour and demonstration. 4:30 p.m., Art Building
Bird Walk
Join SCC's Center for Native & Urban Wildlife and explore our campus bird diversity. This general walk introduces participants to birding, attracting birds to your yard along with some natural history of our local "backyard" birds. There are good chances of encountering quail, flycatchers, woodpeckers, burrowing owls, and much more. 2:30-3 p.m., Center for Native & Urban Wildlife CNUW Building
Chair Massages
Relax, refresh, and recharge with a chair massage offered by the SCC Fitness Center. Massage is a great way to de-stress and experience ultimate relaxation. Let our skilled massage therapist, Dan Klausner, help melt away your tension and leave you feeling rejuvenated. 2-5 p.m., Two Waters Circle
Computer Information Systems
Discover Computer Information Systems programs and career opportunities with interactive games and a tour of the Virtual Data Center in CM448 and CM440 upon request. 2-5 p.m., Two Waters Circle
Creative Writing Open Mic
Come listen to SCC students share their original creative writing work. Poetry, personal essays, short stories, song lyrics, and play and manuscript excerpts will be read, giving audience members a chance to pause and reflect on rich, shared experiences of the human condition. Two Waters Circle
Explore Physics
Explore Physics with two dynamic events that are sure to wow attendees. From 2:30-3:15 p.m., come to the grassy area south of the Language & Communication Building to launch some water balloons (maybe at a teacher)! Then, from 3:30-4:15 p.m., come to the north Parking Lot I and watch rocket launches (not at a teacher)!
Film & Theatre
The Scottsdale School of Film+Theatre will offer a unique opportunity to experience a film set firsthand by shooting a scene on their sound stage, with participants getting the chance to set up lights, cameras, and audio equipment before trying out each role on a film set. In addition, participants will receive a link to view the final film they worked on. 2-4 p.m., in the Applied Sciences building, room AP209.
Fitness & Wellness Center Tours
Check out this amazing facility dedicated to your health and wellness (note, you don't have to be an SCC student to join). 2-5 pm, Fitness & Wellness Center
Jump Station
Elevate your game with the Jump Station offered by the Exercise Science, Personal Train and Nutrition Program. Athletes can measure performance readiness and test their explosive power through a standing vertical jump. Not an athlete? No problem. Unleash your inner athlete and discover how high you can fly! Two Waters Circle
Math, Computer Science and Engineering Scavenger Hunt
Discover the STEM facilities on campus by participating in an ongoing scavenger hunt that takes you from the Planetarium to Toad Hall through CM469, the Math Tutor Center. Pie will be served at the Pi stand in honor of Pi. Start at the STEM table at Two Waters Circle
Planetarium – View the Galaxy!
Planetarium Shows: Come view the Arizona night sky projected on the dome of the planetarium. Learn how to identify celestial constellations, planets, and stars, and their location in the November sky. At home, try to recognize them in the night sky above you. Natural Science Building west courtyard.
Reserve your seat for the 3:30-3:50 p.m. experience.
Reserve your seat for the 4:30-4:50 p.m. experience.
Telescope Viewing: (weather permitting) Safely view the Sun and planet Venus. The Sun is almost at "Solar Maximum" and sunspot groups, some bigger than the Earth, should be visible. Early in the afternoon, planet Venus will also be visible. Venus, our "sister planet", is only slightly smaller than Earth and displays phases like Earth's Moon. 2-3 p.m., Natural Science Building
Poetry Writing
The English, World Languages, and Journalism (EWLJ) department table will be teaching visitors how to write a calaverita poem. Once they are written, visitors can then pick up a candle (they'll be the little electric votives) and place both items on the ofrenda display to honor their lost loved ones. 2-5 p.m., Two Waters Circle
On the night of October 31st, the Día de los Muertos celebration begins with the preparation of an ofrenda; a symbolic welcoming of deceased people and pets into the homes of Mexican and Latin American families. Lighted candles, favorite foods, photos, and calaverita poems are offered to the deceased as a way to honor their memory and celebrate their lives.
Calaverita is a simple, humorous poem with rhymes and verses highlighting the positive and negative traits of a person or pet, either living or dead. As a result, the spirit of death (called flaca, calaca, la fria, la Catrina, or The Death) comes and may take the person or pet in the poem along with her.
Student Services
Get all of your questions answered about becoming a student at SCC, including admissions, testing, enrollment, advising, financial aid, and more. Student Center Building Welcome Center and Two Waters Circle.
Visual Communication
Tell your fortune and learn your career path in Visual Communication. Test your color skills with our own blendkou challenge. Two Waters Circle.
Yoga
Yoga for everyone! Find your center at the mini yoga classes offered by the Yoga Instruction Program. Our talented and energetic faculty and students will take you through a series of yoga poses that will get your body moving. No experience is needed to participate. Two 15-minute sessions, Two Waters Circle
The following events take place on the main stage, near Two Waters Circle.
2:00-2:10 p.m. – Jazz Band
2:10-2:20 p.m. – Welcome and Land Acknowledgement
2:20-2:40 p.m. – Poetry
2:40-3:00 p.m. – Jazz Band
3:00-3:15 p.m. – Dance
3:15-3:30 p.m. – Poetry
3:30-3:50 p.m. – American Indian Dance
3:50-4:15 p.m. – Poetry
4:15-4:45 p.m. – Faculty Woodwind
4:45-5:00 p.m. – Closing remarks, announce Iron Pour
Sunscopes – 2-3 p.m., Natural Science Building
Water Balloon Catapults – 2:30-3:15 p.m., south of the Language & Communication building
Rocket Launches – 3:30-4:15 p.m., Parking Lot I
Business School – Games, tours, giveaways, Business School building
Recreation S'mores – Health & Wellness tent
Center for Native & Urban Wildlife Building open house
Bird Walk – 2:30-3 p.m., Departs from Two Waters Circle
Cyanotypes – Art Building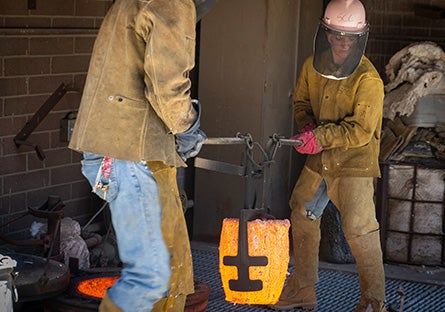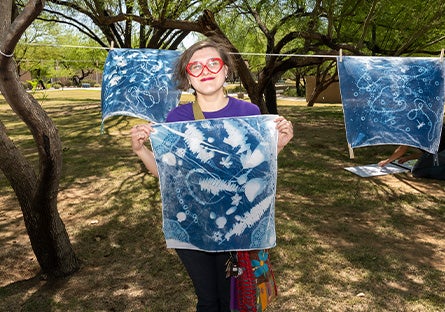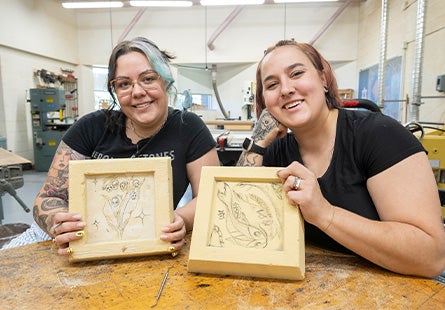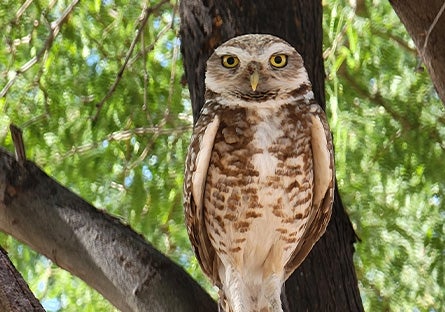 Don't miss this amazing experience – RSVP today! All attendees will enjoy free food, live music, fun activities, and free parking while discovering the amazing learning opportunities available at SCC.
---
Questions about the event? Please contact Peggy Deal at [email protected]
Learn more about Scottsdale Community College