Friday, February 17, 2023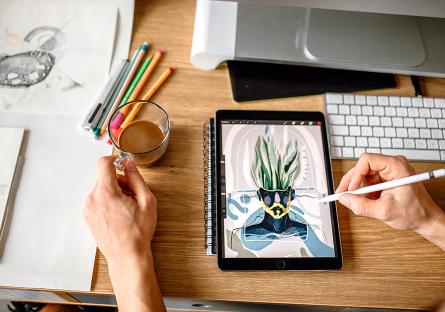 Inspired young artists often face the challenge of convincing their parents that a career in the arts can be both fulfilling and lucrative. Job opportunities in graphic design, marketing, and digital manufacturing (print production) continue to grow, providing meaningful careers with above-average earnings potential.
An Evening of Answers, hosted by the Visual Communication department at Scottsdale Community College (SCC), offers students and parents an opportunity to meet industry leaders, education experts, and recent graduates and learn about the exciting career prospects in these highly creative fields.
The event will be held on March 8th, from 6-8 pm, at the Indigenous Culture Center, room 221-222, at SCC.
"Our program prepares students for positions that are in high demand and can provide them with a lucrative career," says Professor Peggy Deal, who has over 45 years of graphic design experience and co-authored the graphic design standards for the Arizona Career and Technical Education programs.
During the event, students and parents can connect with industry experts and executives to hear about the skills that make the most impactful candidates, the different career opportunities available, and why SCC graduates are highly sought after by employers. The panelists include:
Robert Anderson, CEO of Prisma Graphic
Chris Scirone, Director of Strategic Sales Commercial Print at Konica Minolta
Cathy Skoglund, Printing Industries Association, Inc. Director, Southwestern
Ted Raymond, Principal, Pixa Creative
Joe Marin, PRINTING United Alliance, Senior Vice President of Education and Training
Emma Clayton, Alumni, Runbeck Election Services
One of the frequently asked questions, according to Deal, is whether one can make a living as a creative. The answer is a resounding yes!
SCC is the only college in the Maricopa County Community College District that offers a Visual Communication degree, designed to provide students with the practical skills they need to succeed in their careers. The curriculum has been refined based on input from top industry employers, ensuring that students graduate with the skills that are in high demand.
The Visual Communication program at SCC offers three separate tracks: Design, Creative Branding, and Digital Process Management. The Design track emphasizes practical skills for a digital environment and prepares students for careers as graphic designers. "You don't need to be able to draw to be a good graphic designer," explains Deal.
The Creative Branding path offers numerous opportunities for pursuing a career in marketing, advertising, web design, and social media management. Alternatively, Digital Process Management teaches students about the manufacturing (print production) side of design and prepares them for careers in project management, customer service, and manufacturing and printing operations.
For students dreaming of a career that allows them to put their creative skills to use, or parents searching for more information about the realities of job opportunities, An Evening of Answers is a must-attend event. For more information or to RSVP, contact Peggy Deal at [email protected].
Learn more about the Visual Communication degree and certificate programs at SCC.