Friday, November 18, 2022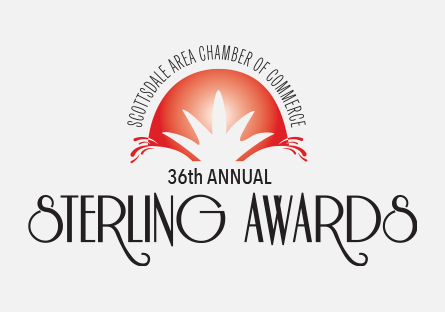 The Scottsdale Chamber of Commerce has awarded Scottsdale Community College (SCC) the 36th Annual Sterling Award in the Big Business category, which acknowledges Scottsdale organizations that demonstrate excellence, innovation, and community stewardship.
The Sterling Award "recognizes significant contributions to quality of life and the economic fabric of the community," according to the Scottsdale Chamber. SCC was selected based on its community impact, organizational culture, unique student offerings, and ability to adapt to the changing landscape of higher education.
"This award is a testament to the tireless efforts of our amazing faculty and staff to provide the highest quality of education," says SCC President Eric Leshinskie. "We're constantly searching for new ways to create opportunities for students, so it's incredibly meaningful to have the Scottsdale Chamber recognize the significant impact that Scottsdale Community College is making in our local community."
The value SCC offers to its students greatly contributed to winning this prestigious award. Between low-cost tuition, small class sizes, and expert faculty, students pursuing any of the more than 100 academic programs can do so knowing they are getting a high-quality education at an affordable price. Based on a survey of SCC alumni between 2015 and 2019, 91% of respondents replied that SCC prepared them for the job in their preferred field.
That value lets SCC contribute significantly to the overall economic health of Scottsdale by increasing consumer spending in the area while also supplying a consistent talent pool to the workforce. Taxpayers can expect that for every dollar of public money invested in SCC, they will receive a cumulative value of $4.90 throughout the students' working lives, according to EMSI – a nearly quintupled value. Furthermore, SCC enriches the lives of its students by increasing their lifetime earning potential, developing their self-confidence, and helping them to achieve their personal potential.
SCC was also recognized for its friendly and collaborative work environment that offers meaningful career opportunities, competitive compensation, extensive benefits package, tuition assistance, and various professional and personal development opportunities.
As the nature of higher education continues to change, SCC has adapted to meet students where they are. The past year has seen SCC introduce a wide variety of programs focused on workforce development, offering certifications and training that quickly prepare students to enter in-demand fields in areas such as healthcare, finance, education, and business.
Learn more about the available programs at Scottsdale Community College.