Wednesday, March 23, 2022
Notice
This article appears for archival purposes. Any events, programs and/or initiatives mentioned may no longer be applicable.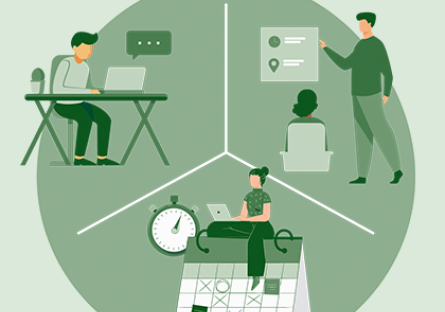 College students are by nature a diverse bunch, but the one thing nearly every one of them wants? It is, in the immortal words of William Wallace: "Freedom!". Scottsdale Community College's newest offering is designed to offer just that.
SCC is introducing an innovative new attendance and class participation strategy that offers more flexibility and allows students to engage with their coursework in the way that best suits their skills and lifestyle. This new strategy, called HyFlex, straddles the lines between the current In Person, Live Online, and On Your Own Time Online class modalities. With HyFlex, students can choose whether to attend a given class on campus, to stream the class live as it is being taught, or to watch the recorded video whenever their schedule allows.
Registration for Summer and Fall semester classes begins March 21, and HyFlex opens an entire realm of possibilities for students. With these options, students can better fit their education to their lifestyle, choosing not only what style of instruction they'll benefit from most on any given day, but also allowing them to better meld their school schedule with the rest of their life. A number of SCC students work one or more jobs; HyFlex allows them to complete coursework on their time. Other students enjoy the flexibility of online classes, but find they need more individual attention when working on difficult assignments – HyFlex works perfectly for them, allowing them to complete their work online while always having the option of attending in-person when they need additional instruction.
Those options naturally lead to smaller class sizes, which gives those students who prefer in-person learning more intimate and individualized instruction than they might get in larger classes.
"Our focus at SCC is always on giving students more tools to succeed," says Interim Vice President of Academic Affairs Dr. Eddie Lamperez. "We understand that every student learns differently and that their unique life situation factors into their school life in a number of ways. HyFlex creates a robust new way for students to take control of their education."
SCC has outfitted 31 carefully selected classrooms with the technology necessary to make HyFlex a reality. Special webcams have been installed with the ability to pan, tilt, zoom, and auto-track, giving instructors fine-tuned control over what students online will see. The technology is also closely integrated into SCC's online learning platform, Canvas, allowing lectures to be easily recorded and uploaded for students to view after class has concluded, making reviewing material more convenient than ever. Touch-screen monitors with whiteboard software were installed as well, so instructors can utilize a digital whiteboard that can be projected for in-person students and shared with live online students simultaneously.
Faculty who have begun teaching HyFlex classes (during a pilot program during the current Spring Semester) echo students' praises for the HyFlex strategy, saying that the student-centric focus of the classes and the added flexibility have made a world of difference. Students who quarantine after testing positive for COVID-19 can easily transition to online learning until they're fully recovered. Matthew Bloom, Resident English Faculty at SCC, explains how one student – after a family member living in Mexico fell ill – was able to spend weeks caring for them while keeping up with courses online before resuming in-person classes when they returned to the U.S. Others have said that students are excited just to save money on gas by limiting their trips to campus.
HyFlex represents a significant investment in offering students more flexibility, freedom, and choice in how they engage with their education. SCC will continue to find new and innovative ways to put student success and satisfaction at the forefront of everything they do.
Learn more about HyFlex and SCC's many Learning Options, including types of learning, course format comparisons, and the time commitment for each class.
Discover the HyFlex courses offered this semester.
Summer and Fall Registration begins March 21, 2022. Learn more about attending Scottsdale Community College.