Wednesday, September 21, 2022
Notice
This article appears for archival purposes. Any events, programs and/or initiatives mentioned may no longer be applicable.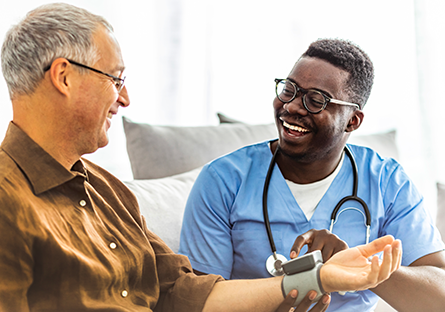 With the announcement of a new certification program, Scottsdale Community College (SCC) is ready to meet the expanding opportunities for nursing careers locally and nationwide. SCC is making it more accessible than ever for individuals to pursue a healthcare career with the new Nurse Assisting Certificate of Completion program, beginning in the Spring 2023 semester.
At 4.5 credit hours, the Nurse Assisting program is an approximately 7-week course (NUR158) that introduces students to the nursing profession. The curriculum includes theory, skill practice in the nursing lab, and clinical experiences in healthcare facilities that prepare students for the Arizona State Board of Nursing exam to become a certified nurse assistant (CNA) or a licensed nurse assistant (LNA). The training focuses on critical thinking, decision-making, communication, and team collaboration while integrating patient care skills.
CNAs are essential members of the healthcare team, providing care that helps patients with daily living. They work under the supervision of licensed nurses to take vital signs, answer call lights, and measure food and fluid consumption. Potential employers include hospitals, residential care facilities, nursing homes, and patient homes.
"Certified nurse assistants help improve the lives of those they serve – that's both the nursing staff and their patients," says SCC Nursing Department Chair and Program Director Debbie Dollmeyer. "If you are compassionate, caring, and have a passion for helping people, you may be the perfect candidate for SCC's new Nurse Assisting program."
The new program complements SCC's long-standing Nursing associate degree program. With the extensive growth in healthcare employment, the College has expanded its Health Sciences programs to support allied health careers in Pharmacy Technology, Community Health Worker, Exercise Science, Nutrition, and more.
SCC is holding free online information sessions for prospective students. Visit the Nurse Assisting program for more information and to register for an upcoming information session.