Notice
This article appears for archival purposes. Any events, programs and/or initiatives mentioned may no longer be applicable.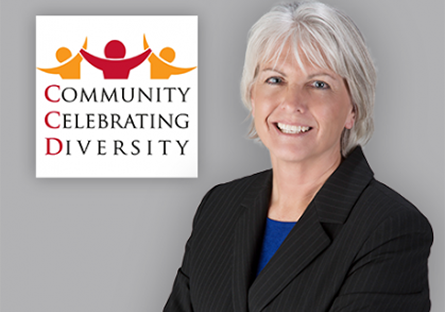 Chris Haines, Interim President at Scottsdale Community College, was one of three Diversity Champion honorees recognized by the Scottsdale nonprofit Community Celebrating Diversity at the 28th Annual Martin Luther King Jr. Community Celebration Dinner, which took place Jan. 12, 2022, at the Embassy Suites by Hilton Scottsdale Resort.
Diversity Champions are individuals who exemplify the philosophy of Dr. Martin Luther King Jr. and who have enriched the community by empowering others. The other nominees were Angela Hughey, Co-founder and President of ONE Community & ONE Community Foundation, and Alan "AP" Powell, Chairman and CEO of AP & Associates. 
With 38 years in higher education, President Haines has led educational initiatives designed to support marginalized and at-risk populations to reduce barriers to access, such as the Hannelly Center One Stop Enrollment Center at Phoenix College and launching scholarships for DACA/Dreamer students. While coaching women's sports at South Mountain Community College, she realized many of the players required flexible schedules to participate and she adjusted practice times to accommodate everybody. During the summer of 2020, the campus community was hurting from the tragic death of George Floyd. She held multiple town halls, and encouraged everyone to share their experiences. She quickly launched an extensive diversity, equity and inclusion committee to engage and support the campus community.
Haines serves on the Scottsdale Chamber of Commerce, Community Celebrating Diversity, East Valley Think Tank, City of Scottsdale Education Committee, Scottsdale Coalition of Today and Tomorrow (SCOTT) and Arizona Happy Tails Dog Rescue. 
Community Celebrating Diversity is a Scottsdale-based nonprofit organization that sponsors educational and community events to celebrate and create a greater awareness of our community's diversity. Its mission is to enhance the perception and understanding of diversity, provide opportunities for citizens to recognize our similarities and to acknowledge our differences, and to seek respect for the values of others and the oneness of humanity. The organization was co-founded by longtime SCC president Dr. Art DeCabooter.
For more information, visit www.CCDArizona.org.