Thursday, December 15, 2022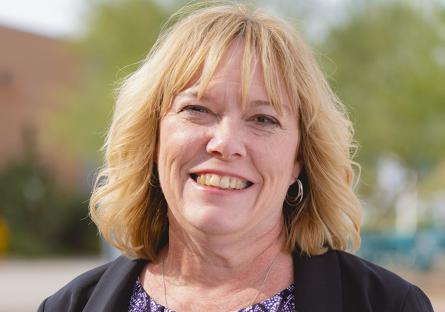 Scottsdale Community College (SCC) is pleased to announce its next Vice President of Academic Affairs: Dr. Stephanie Polliard. Dr. Polliard was chosen from a pool of talented candidates for her extensive experience in education and administration and her proven track record of promoting high-quality instruction that engages and supports student success.
The Vice President of Academic Affairs (VPAA) serves as the Chief Academic Officer by leading, planning, organizing, and administering academic programs that serve the needs of the diverse student body at SCC. In that way, Dr. Polliard will be responsible for improving the already high standards of SCC's various disciplines and developing innovative new programs.
As VPAA, Dr. Polliard reports directly to College President Dr. Eric Leshinskie, providing oversight of all instructional programs and serving as his advisor. In addition, she will work closely with the Vice President of Student Affairs and the Vice President of Administrative Services to promote the best interests of the College and create more opportunities for current and future students.
"Over her career, Dr. Stephanie Polliard has proven herself to be an educator and a leader exceptionally committed to excellence in teaching and learning and supporting equitable access and success for all students," says President Eric Leshinskie. "She is a dynamic, talented, collaborative leader. I'm so excited to welcome her to our campus."
As a first-generation college student who started at a community college herself, Dr. Polliard understands the impact an institution like SCC can have on every student's future. Her career in education began with 15 years of teaching English to high school students in inner-city Phoenix. She went on to serve as an adjunct professor at Paradise Valley Community College (PVCC) until she became residential English faculty in 2012. Later, as the English division chair and Maricopa lead for developmental education transformation, she influenced positive change through multiple measures for placement and curriculum redesign and advocated for a culture of reflection around college assessment practices. In 2019, Dr. Polliard was chosen as the Interim Dean of Instruction as a Faculty Administrator at PVCC and then was selected as the Interim Vice President of Academic Affairs of GateWay Community College in 2021. In these two roles, she has fostered conditions for equity in access and integrated student support.
Dr. Polliard believes in college-wide collaboration. Through cross-department partnerships, she developed successful foundations for "First Year Experience" courses that build solid foundations for new students as part of her advocacy for a student-ready paradigm. She believes that data-informed reflection should guide all areas that touch the student experience to ensure student retention and success. This philosophy supports her vision of enrollment and retention as a team effort across all college departments.
Dr. Polliard holds a master's degree in education from Grand Canyon University. She earned her Ed.D from Northern Arizona University in 2009 with her dissertation: "Perceived Effects of Arizona's Instrument for Measuring Standards (AIMS) on High School English Curriculum: A Multiple Case Study of Four High Schools."
Dr. Polliard's selection is the culmination of a nearly five-month nationwide effort. A specially formed search committee oversaw the rigorous recruitment process, ultimately leading to in- person public forums for the community to meet the finalists on December 6, 2022. The public forums were open to students, employees, and the general public to allow the audience to ask questions and provide valuable feedback for consideration.
Learn more about the VPAA position and the search process.