Notice
This article appears for archival purposes. Any events, programs and/or initiatives mentioned may no longer be applicable.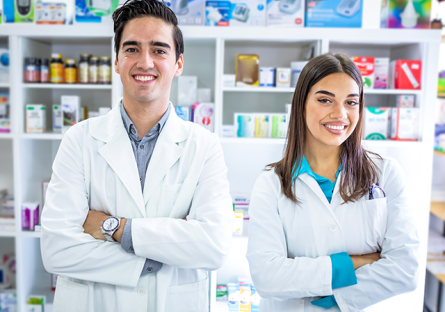 The 2020s have made clear how vital careers in healthcare are to our society, and pharmacy technicians are an integral part of that industry. Starting in the Fall 2022 semester, Scottsdale Community College (SCC) will begin offering classes for its new Pharmacy Technician Certificate of Completion (CCL) program** to efficiently prepare anyone interested in working in healthcare for the abundance of new positions set to open up over the next decade.
The Pharmacy Technician CCL from SCC is a 16-credit program that prepares students for a role working in pharmacy practices in retail, hospital, and institutional settings. According to O*Net, the starting annual salary for pharmacy technicians in Arizona is estimated at $37,240, which is higher than the national average, and positions in this field are expected to increase by 25% over the next ten years across the state. This area of study can be an attractive entry point for anyone interested in a career in healthcare or for existing healthcare professionals looking to upskill within their industry.
"We recognize how important it is to Scottsdale and Arizona as a whole to have a dedicated pipeline of well-trained healthcare professionals," says Veronica Hipolito, SCC's Interim President. "From our established popular programs like Nursing to emerging fields like Community Health Worker and now Pharmacy Technician training, we're proud to be a part of supporting the health of our community through our educational programming and workforce development."
The program, approved by the Pharmacy Technician Certification Board, prepares individuals to take the Pharmacy Technician Certification Exam or the National Healthcareer Association Exam for the Certification of Pharmacy Technicians (ExCPT), which is required for employment. Topics covered include: medication preparation; handling of a variety of substances (hazardous and non-hazardous); reporting guidelines (federal and state); OSHA guidelines and best practices; patient safety and quality assurance; order entry and processing; inventory control and management; administrative duties; health and wellness guidelines; billing and reimbursement principles and practices.
Coupled with the included internship or practicum at leading industry employers' facilities, students will be prepared to take their certification exam and begin their careers in this rapidly growing field.
Students will also have the opportunity to network with professionals already working in the field to help them find positions in traditional pharmacy settings in drug or grocery stores, hospitals, clinics, nuclear medicine settings, compounding pharmacies, long term care facilities, insurance companies, pharmacy benefits companies, and other retail outlets.
Classes begin in August 2022. For more information, review the Pharmacy Technician Training program.
**Pending approval by the U.S. Department of Education. Classes are open for enrollment in the Fall 2022 semester and will be eligible for financial aid once approved.