Tuesday, November 1, 2022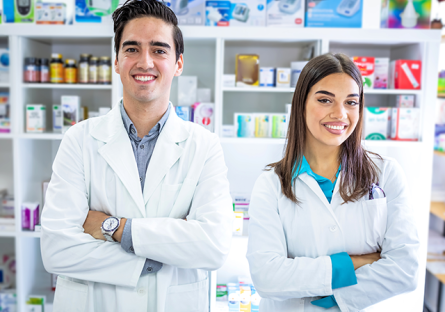 The importance of a robust and highly-trained workforce of healthcare professionals has never been more apparent than it is today. To that end, HonorHealth is collaborating with Scottsdale Community College (SCC) to offer a new Pharmacy Technology Certificate of Completion that efficiently prepares anyone interested in working in healthcare for the abundance of new positions expected to open up over the next decade. Classes begin Jan. 17, 2023.
HonorHealth has worked tirelessly with SCC for over two years to create this comprehensive training program. Pharmacy technicians are a vital part of the healthcare industry as they process, prepare, and dispense medications, interact with patients and insurance companies, manage inventory, and practice quality control. As a result, pharmacy technicians are in high demand, with job projections expected to increase up to 25% over the next ten years in Arizona, according to O*Net.
"HonorHealth's outstanding commitment to the health of our communities made them a perfect organization to collaborate with to develop this program," says SCC President Eric Leshinskie. "We're excited to couple the resources of our institutions to develop this new talent pipeline and open up new opportunities in the healthcare field."
Created as a means for HonorHealth team members to reskill or upskill into new positions, the increased demand for pharmacy technicians inspired SCC to open the program to the public. The collaboration will help provide real-world instruction through an intensive 200-hour externship, allowing students to apply what they've learned in a professional setting.
"It has been great to work with SCC on developing this important program to improve the pipeline of pharmacy technicians within our community," says Bina Patel, Pharm.D., FABC, associate vice president, acute care pharmacy services at HonorHealth. "This program is designed with the working individual in mind by requiring only eight hours per week of classroom instruction, and the remainder completed with weekly online learning modules and assignments. This allows students greater flexibility to balance work and family commitments."
The program, approved by the Pharmacy Technician Certification Board, ultimately prepares students to take the Pharmacy Technician Certification Exam or the National Healthcareer Association Exam for the Certification of Pharmacy Technicians (ExCPT), which is required for employment. The Certificate of Completion prepares students to work in a pharmacy practice in retail, hospital, and institutional settings.
Topics covered in the 16-credit program include: medication preparation; handling of a variety of substances (hazardous and non-hazardous); reporting guidelines (federal and state); OSHA guidelines and best practices; patient safety and quality assurance; order entry and processing; inventory control and management; administrative duties; health and wellness guidelines; billing and reimbursement principles and practices.
To learn more, visit Pharmacy Technician Training Program.