Notice
This article appears for archival purposes. Any events, programs and/or initiatives mentioned may no longer be applicable.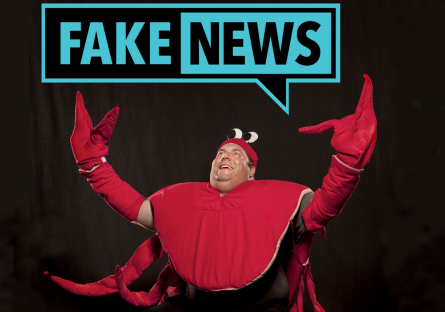 The proliferation of blogs, social media and cable TV news means our society is more connected and sharing more information than ever before. Clickbait appears everywhere with the only goal to generate more fans, followers, viewers and, well, clicks.
With all of this content available, how do you know that what you are reading is truly accurate, objective and current?
Students in the Media & Society (MCO120) course at Scottsdale Community College (SCC) are learning how to recognize media misinformation and disinformation and take a deep-dive into the term "fake news".
"The coursework provides students with a backstage pass to the kind of reputable reporting we desperately need in our world," says Janet Richards, SCC's Journalism faculty lead. "Students learn how ethical journalists research, shape and report information, according to the Society of Professional Journalists."
Richards' curriculum examines the proliferation of fake news online and what consumers can do about this inescapable phenomenon from a practical, political and ethical level. Students learn how to identify and address confirmation bias, echo chambers, filter bubbles, manufactured and hacked "faked news," and other related topics.
These can be sophisticated tactics that are skillfully manufactured by outside entities designed to interrupt, confuse and alarm consumers of news. And these ploys are by far more worrisome, as they directly attempt to mislead an audience in accepting and believing something that is not true.
Highly respected media outlets like azcentral/Arizona Republic are constantly addressing false and misleading content.
"Media literacy has become more and more part of our mission at The Republic," said Stacy Sullivan, a newsroom director for The Republic, Arizona's state newspaper and winner of a 2018 Pulitzer Prize for "The Wall" project examining President Trump's border wall proposal. "So much content out there comes from sketchy sources, fails to include proper context, or even bother with true facts."
The problem is chronic on social media, Sullivan said: "Facebook, Twitter and other social media outlets can be gamed. Manipulation is easy, especially if consumers don't pay attention to where the content is coming from."
His biggest tips: Check your sourcing and don't share suspicious content. The Republic, like other legitimate news outlets, has strict ethical and professional practices that guide coverage.
"It's the job of our opinions columnists to give us their take on current issues," Sullivan said. "But our news reporters and editors have one goal: To arm readers with the facts."
Ultimately, the danger of fake news is that it clouds conversations and works against an informed, educated public that can productively take part in civic life. 
In the Media & Society class, students learn how to recognize the difference between a legitimate news story and a post that is framed as news, but is not much more than an opposing viewpoint (opinion) wrapped in "native advertising." Native advertising is a form of advertising used in the public relations and marketing industry that follows the hallmark signs of a news story to essentially "legitimize" or dress copy so readers will believe it.
The course also teaches that accurate sourcing and attribution is a necessary skill for every student whether they are involved in research or writing or even an analysis of a film. Students learn how to fact check information using many tools and procedures in order to differentiate between truth and fiction in the sea of information faced by consumers every day.
The learning outcomes are not just for students pursuing a career in journalism. Richards says media literacy has increasingly become a vital skill for students across all ranges of subjects from English to Science, Social Studies and Language Arts. 
She added, "The students that take this course, hands down, have told me how much they appreciate the applicable skills that they take away with them after completing the course. They can immediately recognize certain suspicious 'informational' posts on social media and online, and can spot items that are not legitimate through some simple steps." 
SCC's Media & Society class begins Sept. 7, 2021 (MCO120, Course Sequence 37766). The only prerequisite is a C or better in ENG101 or ENG107. The course credits transfer into ASU's Walter Cronkite School of Journalism and Mass Communication and other 4-year Journalism programs.
And, no, SCC's beloved green mascot, Artie the Artichoke, is not going anywhere.
For more information, visit SCC's Journalism Program page.
Note: SCC's Center for Civic & Global Engagement also provides ongoing civic education resources and experiences for students. For example, watch for Constitution Week virtual events September 13-17 with planned topics on combating public misinformation by researching issues, ballots and candidates prior to voting.