Notice
This article appears for archival purposes. Any events, programs and/or initiatives mentioned may no longer be applicable.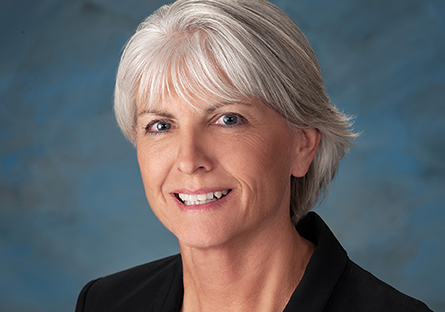 After 38 years in higher education, including 30 years of service and dedication to the Maricopa County Community College District (MCCCD), Scottsdale Community College (SCC) Interim President Chris Haines announced her plans to retire, effective January 2022.
President Haines' extensive career in higher education includes multiple leadership roles of rising responsibilities. Before joining SCC in 2018, she spent seven years at Phoenix College as Dean of Student Affairs, Vice President of Student Affairs and then Interim President. She had previously served as an adjunct instructor at Chandler-Gilbert Community College, Mesa Community College and South Mountain Community College, as well as student affairs and enrollment services positions for Mesa Community College, South Mountain Community College and SCC.
Some of her many accomplishments include:
Led the SCC campus community through the global pandemic, including the successful transition to remote learning for students and working from home for employees. SCC continues to post the lowest positive numbers across MCCCD because of its aggressive safety and security measures.
Grew SCC's Career and Technical Education/Workforce Development programming and business partnerships, as well as hired SCC's first Director, External Affairs Workforce Development & Community Partnerships and Internship Manager.
Implemented a campus-wide wireless technology upgrade at SCC benefiting students and employees.
Launched the Complete Your Dreams initiative, to fund one class for 100 former students so they could complete their educational goals. All funding was from donations by SCC faculty, staff and community members. 
Collaborated with SCC faculty and the Vice President of Academic Affairs to offer classes in an accelerated 8-, 10- and 12-week format, providing greater flexibility to students in how they wish to learn.
Opened and led the Phoenix College One Stop Enrollment Center.
"I have had the honor and privilege to work with and for so many amazing higher education professionals," said Haines. "I have learned something from all of them and am grateful to have served the students, staff and faculty of MCCCD these last 30 years. I am especially proud to have served as SCC's interim president. I cannot think of a better group of innovative and caring educators to collaborate with and serve over these last three years. You have enriched my life and laughed at my jokes, for that I will be forever grateful! Go Chokes!"              
"The Maricopa Community Colleges have been very fortunate to have President Haines on our team for the past 30 years, and are grateful for the incredible impact she has had on Scottsdale Community College," said MCCCD Interim Chancellor Dr. Steven R. Gonzales. "I know I am not alone in saying that she will be dearly missed, and we wish her all the best in her retirement and future endeavors."
President Haines is a strong advocate for community involvement and currently serves these organizations:  Scottsdale Chamber of Commerce (board member), Community Celebrating Diversity (board member), East Valley Think Tank, City of Scottsdale Education Committee, Scottsdale Coalition of Today and Tomorrow (SCOTT) and Arizona Happy Tails Dog Rescue. She received her Bachelors of Science in Education from Black Hills State University and a Master's in Education, Educational Psychology from Northern Arizona University.
The Maricopa County Community College District will begin the official search for her replacement in September, with the goal of having a new, permanent president hired and in place by January to ensure a smooth transition.