Notice
This article appears for archival purposes. Any events, programs and/or initiatives mentioned may no longer be applicable.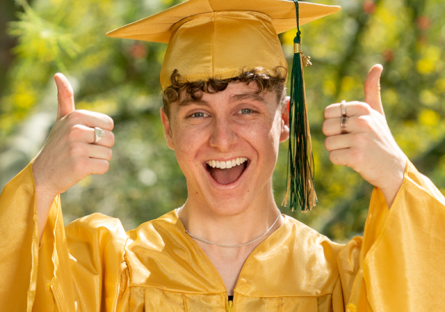 Scottsdale Community College is hosting a Virtual Commencement Ceremony to celebrate the substantial achievements of the 2021 graduating class. The event premiers at 7 p.m., May 21, 2021. SCC's 2020 graduates have been invited to participate given the disruptions that occurred last year by the pandemic. Students and their families, friends, and loved ones will have the opportunity to engage by posting to our dedicated social media wall. The wall is free, open to the public, and can be accessed until May 28.
VIEW SCC's VIRTUAL COMMENCEMENT
For the 2020-2021 academic year, SCC is awarding 772 associate degrees and 348 certificates of completion. A total of 830 graduates are participating in the virtual event.
"Graduation is the culmination of so much hard work and perseverance – and we wanted to make sure our students could be recognized for and commemorate their huge academic accomplishment," said SCC Interim President Chris Haines. "This is their moment to take a well-deserved bow."
The virtual ceremony will include video presentations by President Haines; Dr. Stephanie Fujii, SCC's Vice President of Academic Affairs; Ricardo Leonard, the Honorable Vice President of the Salt River Pima - Maricopa Indian Community; graduating students Katrina Davis and Joseph Kemp, and more. In addition, every graduate will have their name announced as a corresponding personal page is displayed.
View the 51st Annual Commencement Ceremony Program
Graduating students are encouraged to use the hashtag #ScottsdaleCC2020 and #ScottsdaleCC2021 for all SCC commencement-related social media activity to stay connected with other graduates. From May 14 through May 28, all social media posts from Instagram and Twitter using these hashtags will appear on our dedicated graduation Social Wall (see below).
Anyone can post directly to the Social Wall even if they do not have a social media account. Click the blue "Add a post" button on the upper left of the Social Wall, or text an image and/or message to 1-808-400-1049 (all standard messaging rates from your provider apply). Posts will appear after moderation.