Notice
This article appears for archival purposes. Any events, programs and/or initiatives mentioned may no longer be applicable.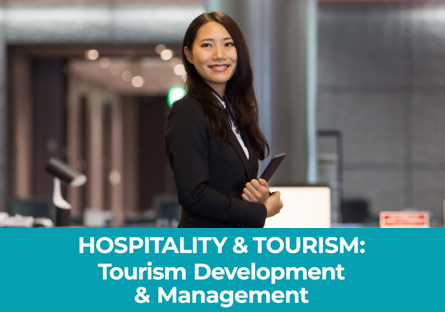 Students in Scottsdale Community College's Hospitality: Tourism Development and Management associate's degree program can now transfer up to 64 credits into Arizona State University's Tourism Development and Management bachelor of science degree, starting with the Fall 2021 semester.
In preparing students for careers in tourism development and management, the SCC program provides an industry-specific planning and management foundation that examines tourism sectors, consumer behavior, and factors that influence tourism development and promotion. Graduates acquire a specific mix of skills that focus on the interaction of tourism with the economy, environment, and people. 
SCC and ASU have created a pathway that lists out all of the educational requirements to guide students to stay on track with the SCC course selections that will transfer to ASU. By starting their education at SCC, students save on tuition over the first two years of college and enjoy smaller class sizes in general education courses.
"The hospitality and tourism industry operates in a highly competitive environment," says Janelle Hoffman, program director and professor for SCC's Hospitality & Tourism Management Program. "It is important that those seeking careers as successful professionals be well-rounded with a combination of business and life skills that are in high demand with employers."
The Tourism Development and Management bachelor of science program at ASU assists students in acquiring planning and management skills to build sustainable models of tourism and lead business operations that consider impacts on all stakeholders. 
Dr. Claire McWilliams, Tourism Development & Management instructor at ASU, says "COVID-19 has shown us how integral and interwoven tourism is to economic, social, and environmental systems around the world. The desire to travel is growing exponentially causing a greater need for leaders who can consider all of the moving parts related to tourism. Our graduates will help solve some of its greatest challenges and help operate large and small entities using strategies that maximize tourism's positive potential and prevent and mitigate its negative effects." 
The hospitality and tourism industry delivers a huge economic impact to Arizona. According to the Arizona Office of Tourism (https://tourism.az.gov/economic-impact/), the Grand Canyon State's warm weather and natural beauty made tourism the number one export industry in Arizona in 2019.  
46.8 million people visited Arizona in 2019.
Visitors collectively spent $25.6 billion in the state. 
Money spent by visitors supports jobs and generates tax revenue. 
Tax revenue equals an annual tax savings of $1,400 for every Arizona household. 
Tourism supported over 194,000 industry jobs. 
Learn more about SCC's extensive hospitality and tourism degree and certificate programs on the Hospitality Management program page.  
For more information on the SCC Hospitality: Tourism Development and Management degree, please contact Janelle Hoffman, Hospitality and Restaurant Management program director, at [email protected].