Notice
This article appears for archival purposes. Any events, programs and/or initiatives mentioned may no longer be applicable.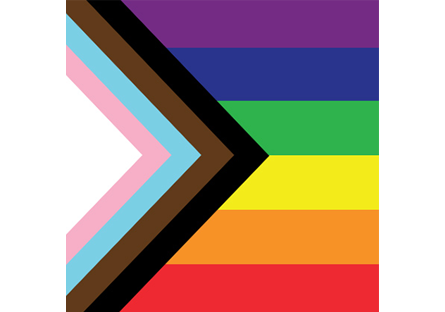 Pride Month commemorates the anniversary of the Stonewall Uprising at the Stonewall Inn in New York City in 1969. The events of that day began with the police raiding the Stonewall Inn, a popular Greenwich Village gay bar. Bar patrons, staff, and neighborhood residents fought back, igniting what many folks consider to have catalyzed the gay rights movement. 
Among the participants of the uprising was Black, trans, bisexual woman, Marsha P. Johnson. She helped lead the movement, which continued over six days with protests and clashes. The message was clear: protestors demanded the establishment of places where LGBTQ+ people could go and be open about their sexual orientation without fear of arrest. The response highlighted a national wave of activism that brought new visibility to the struggle for LGBTQ+ equality. (Sources: GLAAD, National Today, Harvard Gazette) 
June 1 began a month-long celebration of LGBTQ+ Pride. The University of Maryland's Initiatives for Identity, Inclusion & Belonging note that Pride is the celebration of the lives, self-affirmation, dignity, equality, and increased visibility of lesbian, gay, bisexual, transgender, queer/questioning, asexual, nonbinary, pansexual, and Two-Spirit people as a social group. Pride, as opposed to shame and social stigma, is the predominant outlook that bolsters most LGBTQ+ rights movements. 
To celebrate Pride, the Center for Civic & Global Engagement at SCC is inviting you to learn, reflect, and act in support of the LGBTQ+ community. The resources below are not comprehensive, nor are they exclusively for use during the month. Consider other ways you can continue to engage, honor, include, and celebrate LGBTQ+ identities beyond the month of June.
Learn
Act
Attend Kinema's free and virtual Pride Film Festival. Register for any and all film screenings/discussions at Kinema's website.

Trembling Before G-d: Monday, June 7, 5:00 p.m. (PST)
Ahead of the Curve: Monday, June 14, 5:00 p.m. (PST)
Chutney Popcorn: Monday, June 21, 5:00 p.m. (PST)
Call Her Ganda: Monday, June 28, 5:00 p.m. (PST)

Two Spirit and Indigiqueer cultural safety: Considerations for relational practice and policy:  In celebration of National Indigenous Month and Pride Month, the Indigenous Cultural Safety Webinar Series invites you to sit in circle with Dr. James Makokis and Dr. Karina Walters to reflect on our understandings of and contributions toward cultural safety for Two Spirit and Indigiqueer peoples. Circle Moderator - Dr. Billie Allan

Tuesday, June 8, 2021
11:00 a.m. - 12:45 p.m.
https: //us02web.zoom.us/webinar/register/WN_IkF946cBTCKn_-x_gHf2Qg

LGBT+ Pride 2021 Global Survey Insights: Recent years have brought a great deal of change in the status, visibility, and diversity of the LGBTQ+ community and in the way people define their sexual orientation and their gender identity. However, while same-sex marriage is now legal in 29 countries, twice as many countries have national laws criminalizing same-sex relations between consenting adults. Join us for a complimentary webinar featuring new research insights from Ipsos' LGBT+ Pride 2021 Survey – a global study of nearly 20,000 interviews of adults from 27 countries – and a discussion of their implications by a panel of experts from leading academic, advocacy, and business organizations. 

Tuesday, Jun 29, 2021 
9:00 - 10:00 a.m. (PST)