Notice
This article appears for archival purposes. Any events, programs and/or initiatives mentioned may no longer be applicable.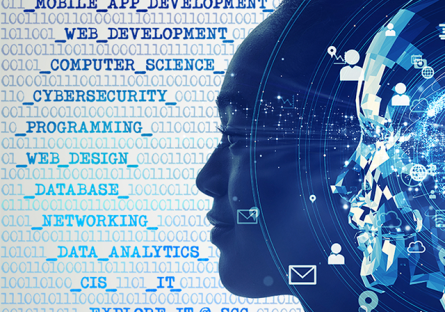 Pursuing instruction in computer studies and information technology can open up many career options. From computer information systems to computer science to cybersecurity to website design and more, knowing which path to follow is critical to reaching one's career goals sooner.
To make it easier for students and prospective students, Scottsdale Community College (SCC) is holding the XPlore Computer Studies Open House from 5:00 to 6:30 p.m., Nov. 4, 2021. Participants can learn about potential careers in computer and information technology and the educational programs available to support these growing fields. This free event will be held online and is open to students and the general public. 
Register for the Open House.
Attendees can meet with SCC faculty from the Computer Information Systems and Computer Science departments, along with representative of various support services. Students can build their 2022 Spring Semester schedule, learn about transfer opportunities to four-year universities, and dive deeper into different career options related to computer technologies.
The need for trained IT workers continues to increase. Computer and information technology occupations are projected to grow 12 percent from 2018 to 2028, much faster than the average for all occupations. This is according to the U.S. Bureau of Labor Statistics. In addition, the median annual wage for computer and information technology occupations was $86,320 in May 2018, which was higher than the median annual wage for all occupations of $38,640.**
"Today's IT industry demands that professionals possess theoretical knowledge, but are also capable of putting practical applications to work," says SCC Computer Information Systems Department Chair Dan Combellick. "SCC has created many academic opportunities for enhanced learning – such as its innovative Virtual Data Center – for students to develop the necessary skills through hands-on practical application so they can contribute to an employer on day one."
To attend, please RSVP.
For additional information, visit SCC's Computer and Information Technology degree and certificate program page.
For more details about the event, contact Sara Beakley-Mercill, Professor of Computer Information Systems at [email protected] or (480) 425-6737.
**U.S. Department of Labor Bureau of Labor Statistics:
https://www.bls.gov/ooh/computer-and-information-technology/home.htm