Wednesday, September 29, 2021
Notice
This article appears for archival purposes. Any events, programs and/or initiatives mentioned may no longer be applicable.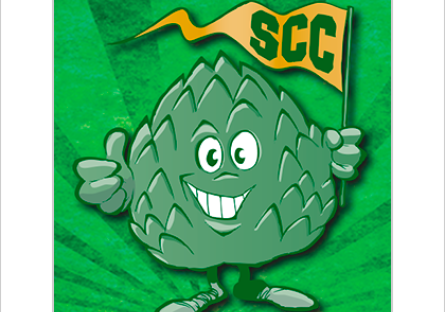 Come Celebrate with Us!
Grab your green and gold, and join your fellow students, faculty and staff members in celebrating Artichoke Pride Week at Scottsdale Community College, from October 4 through 7. All events are in-person and online, and free. Please check back to this page for links and current information. We encourage you to post your pictures and comments to social media using #ArtichokePrideWeek2021.
Monday, Oct. 4
Artie Walk
Kick off the week by wearing green and yellow and either walking SCC's Artie Mile with fellow employees and students or if you cannot join us on campus, go for a walk, run or hike and post your own photo at #ArtichokePrideWeek2021 to show your spirit! If you join us on campus, please plan to meet on the east side of the Student Center (listen for the music!) at 12:00 p.m.
---
Tuesday, Oct. 5
Artie Trivia Night
Whether you are new to SCC as a student or have worked here for years, everyone is invited to try out their luck at trivia all about SCC, from 7:00 to 8:00 p.m. Winner receives not only bragging rights, but a $50 gift card to the SCC Bookstore! Log on to Trivia Night by 7:00 p.m. https://bit.ly/3i2GZvE
---
Wednesday, Oct. 6
Birthday Wishes
Did you know Artie turns 49 this year?!?! We cannot let this big day go by without celebrating the big green guy! Join us by submitting a video birthday greeting for the birthday boy! Get together with your department, class or group of friends and post a video wishing him a great day! Submissions will be accepted now through Oct. 8. https://flipgrid.com/7b276b2a
Artie Gives Back
As you know, Artie also has a great big HEART and so in honor of his birthday we invite his best fans to give the gift of service. However big or small of a difference you choose to make, feel free to post a favorite quote or photo of the difference you made at #ArtichokePrideWeek2021
Women's Volleyball Game
Please join us in cheering on the Lady Artichokes Volleyball team who are ranked in the Top 20! They play Chandler-Gilbert Community College at 7:00 p.m. in the SCC Gym.
---
Thursday, Oct. 7
Artie's Cookbook, Volume II
There is nothing better than a second volume of favorite recipes! Be sure to check out this year's volume filled with favorite recipes from SCC employees and students! View or download Artie's Cookbook Volume II
---
Artichoke Pride Week is sponsored by the Center for Civic & Global Engagement, which creates quality programs and services that provide students and employees with curricular and co-curricular opportunities that increase civic engagement and enhance global awareness.
"SCC's Artichoke Pride Week has always been a fun and uplifting week during the Fall semester when students and employees can show off their Artichoke spirit," said Jen Sydow, student services analyst with the Center for Civic & Global Engagement.
For more information, including getting involved in student clubs, visit Civic & Global Engagement.