Monday, November 16, 2020
Notice
This article appears for archival purposes. Any events, programs and/or initiatives mentioned may no longer be applicable.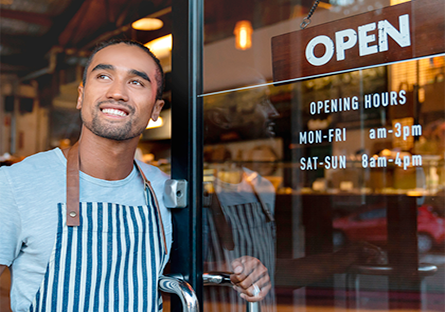 Have you ever wanted to launch your own business? Entrepreneurs help create jobs, spur innovation and solve consumers' problems. Knowing how to begin the process is critical.
While 2020 may be coming to an end, the impact of the pandemic, social unrest and the election will continue to impact us well into 2021 and beyond. These profound transformations across society are creating huge opportunities for business start-ups. Now may be the perfect time to give birth to that new product idea you have.
The Entrepreneurial Studies program at Scottsdale Community College helps prepare students with the entrepreneurial process, the skills required to be successful, how to evaluate new business opportunities, making strategic decision as a start-up and helping ensure financial security.
During the 16-week semester, students participate in one evening class each week covering the following four accelerated courses back-to-back, in order to earn a Certificate of Completion:
Introduction to Entrepreneurship (EPS150) – Provides an overview of entrepreneurship, including the entrepreneurial process and the skills required to be successful, such as starting, planning, financing, marketing and managing a business.

New Venture Creation (EPS160) – Learn the process of starting a new venture, including evaluating specific business opportunities, identifying financing alternatives and defining start-up issues.

Business Start-Up and Planning (EPS195) – Presents the development of a feasibility approach to strategic decision making concerning new venture start-ups, including development of a business feasibility study and a preliminary business plan.

Personal and Family Financial Security (GBS132) – Discover principles and practices of personal and family financial planning, including savings, budgeting, credit, buying versus renting, and general principles of consumerism.
Program instructor Rick Krug brings 24 years' experience as a business coach, mentor, speaker and sales leader focusing on small business success. He says, "Each class builds you toward knowing how to start a successful enterprise that is sustainable, profitable and prosperous from day one. By the end of 16 weeks, you will have all the tools needed to start your own business."
All participating students also receive two hours of free one-on-one professional business coaching with Krug – a $350 value.
Learn more about SCC's Entrepreneurial Studies certificate program here. 
To sign up for this program in the Spring Semester 2021, please register for the course sequences below. All classes are the Live Online format, meeting Tuesdays, from 7 to 9:30 p.m.
EPS150 #28311 - 1/19-2/12
EPS160 #28312 - 2/16-3/9
EPS195 #28313 - 3/23-4/13
GBS132 #28314 - 4/20-5/14
For questions and to get started, contact Mark Barton, Business Program Director, at [email protected].