Tuesday, December 8, 2020
Notice
This article appears for archival purposes. Any events, programs and/or initiatives mentioned may no longer be applicable.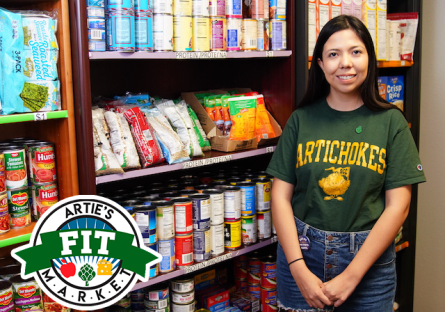 Artie's FIT Market provides a reliable food source to Scottsdale Community College (SCC) students who are experiencing food insecurity. During normal (non-COVID) times, students visit the market and select items of their choice from various food groups. Eligible students are also invited to participate in nutritional education, as well as counseling services. The goal of Artie's FIT Market is to eliminate food insecurity and help students learn about proper nutrition and healthy dietary habits. Due to the temporary closure of campus, the food pantry hasn't been available for in-person services. But thanks to a generous donation from Kroger, SCC has been able to continue meeting the needs of students by providing $50 eGift cards to Fry's Food. 
This semester, the College increased the number of students served to over 80 FIT Market members. The first FIT Market drive-through was held and distributed more than 1,200 pounds of food.
Because the campus remains closed, SCC is finalizing two virtual food delivery methods to assist FIT Market students during the Spring semester. This service will help to maintain the nutritional support provided by Artie's FIT Market. 
SCC is currently accepting applications for new FIT Market student members. Students who wish to participate can use the virtual application process.
Thanks to Kroger, SCC still has 15 eGift cards available for distribution. If the cards aren't used before the end of Fall semester, they will be forfeited. If you are a student experiencing food insecurity, or if you know of a student who might need assistance, please contact SCC.
Providing food support to our hungry students positively affects their physical, mental, and emotional health. Here is a note of thanks from a FIT Market student member: "I wanted to say thank you so much for the food help! . . . You made a huge difference in my life and the food is so much appreciated."
If you know of an SCC student who is experiencing food insecurity issues, is in need of housing resources, or is struggling with other basic needs, please have them contact SCC's Counseling Services at (480) 423-6524. Appointments can be made by emailing [email protected]. For more information and to locate additional resources, visit Counseling Services.
To make a financial donation to Artie's FIT Market, visit the Artie's Place donation page. SCC deeply appreciates the support provided by the community. 
Artie's FIT Market serves Scottsdale Community College students enrolled in at least 1 credit hour course. Find additional Maricopa Community College Food Resources here. For questions, or to speak with Artie's FIT Market Hunger Team, email [email protected].