Friday, February 14, 2020
Notice
This article appears for archival purposes. Any events, programs and/or initiatives mentioned may no longer be applicable.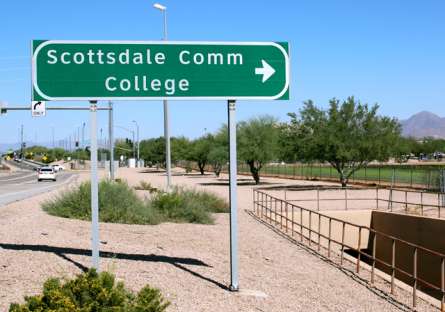 You have many choices when deciding where to pursue a higher education. Few things in life are one-size-fits-all, including which college or university to attend, so it makes sense to check out all of your options. Here's why community college may be a good fit.
1. Lower Cost Means Lower Student Debt
Community colleges have one of the lowest tuition rates across Arizona, at only $85 per credit hour.  This translates to an average cost of about $2,500 annually for a full-time student. Four-year state universities are roughly four times higher, and attending a private institution can be substantially more.
Community colleges are accredited by and have the same academic standards as four-year universities, so you can be confident you are receiving the same high quality education. That is why so many four-year universities, like ASU, UA and NAU, readily accept transfer credits from community colleges.
While financial aid and scholarships are available, we know that cost remains a big concern. Simply put, the lower the tuition, the lower the amount student debt that may be required.
2. More Support Services Help Ensure Student Success
Every student and situation is different. Community colleges understand this and readily offer free services like advising, tutoring, library research assistance, food bank, financial aid, counseling, personal development, and more.
Scottsdale Community College (SCC), for example, provides holistic advising which partners professionals with knowledge and training in a particular area of study with students enrolled in those programs. This provides an additional layer of resources, insights and connections to help each student succeed in their respective field.
Whether it's the pursuit of a two-year associate's degree or beyond, many students entering college require additional assistance. Attending community college can also be an effective bridge for those going from high school to a four-year university, providing a necessary transition as part of a student's total educational journey. Supporting students along the way is a critical role that community colleges can play.
3. Quality and Depth of Academic Programs
Students can expect the same robust curriculum and educational opportunities on par with other accredited academic institutions. Almost 70% of SCC faculty members have a master's degree and 26% have a doctoral degree.
Learners can choose specialized instruction working toward a high-demand career opportunity or general education to then transfer to a four-year university, if desired. For students who are undecided about their major, taking introductory coursework enables them to begin their higher education and sample areas of study while they determine their future.
In addition to serving up many traditional academic programs, SCC offers career and technical degree programs in nursing, motion picture/television production, interior design, hospitality/tourism, and culinary arts – just to name a few of the 160+ degrees and certificates currently offered.
Coursework is available on campus, online or a combination of both, depending upon what best suits the student's needs. Many students report they prefer a campus experience to participate in clubs, sports, student life and leadership, student government and performing arts, all to make connections with other like-minded students.
4. Your Local, Dependable Choice
The Valley is fortunate to have community colleges strategically located across the Phoenix-metro area, ensuring a campus is close to your residence. This means shorter commutes and the likelihood of not having to move to attend classes.
Community colleges are in part funded by taxpayers and enjoy a long, successful record of delivering rigorous training and an overall educational experience that is respected by both employers and academic institutions across Arizona. As new colleges and approaches to education seem to pop up, SCC boasts 50 years of proud academic excellence that you can count on during your educational journey.
Learn more
Discover more by checking out these popular links:
Got questions? Phone 480-423-6700 or visit www.scottsdalecc.edu for more information. Registration for Summer and Fall 2020 Semesters opens March 16.