Notice
This article appears for archival purposes. Any events, programs and/or initiatives mentioned may no longer be applicable.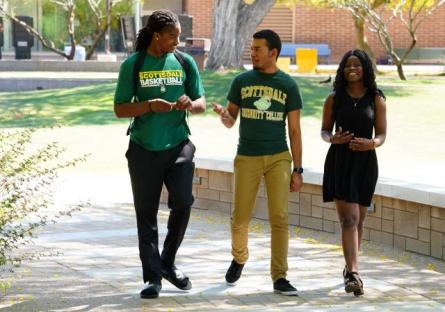 Responding to local employers' desired job skills for a range of occupational requirements, Scottsdale Community College (SCC) is launching new certificate of completion programs for event management, entrepreneurial studies, real estate and administration of justice studies in corrections and victimology in its Fall 2019 semester. In addition, SCC is expanding its partnership with Northern Arizona University to offer a four-year bachelor degree in biology on its Scottsdale campus.
"At SCC, training students to be as successful as possible in their chosen career path is our number one priority," said Chris Haines, Interim President of SCC. "Our diverse program offerings, affordable tuition, expert faculty, small class sizes and easy credit transfers make SCC the ideal choice for learners of all ages to excel in career and technical education."
The new certificate programs at SCC are:
Meeting and Event Management – This 18-credit-hour program prepares students to work in the role of a meeting planner for the hospitality, corporate and non-profit industries. Students learn the coordination of transportation, event logging, exhibit and meeting space, audio-visual services, web-based materials, food and beverage, and a wide range of educational resources, public speakers and entertainment options.
Entrepreneurial Studies – The 10-credit-hour program teaches students how to launch a successful company and develop, pitch and execute new products or business ideas. Areas of study include an overview of entrepreneurship, raising capital, business start-up opportunities, building financial security, and writing a basic business plan.
Real Estate: Prelicense – At six credit hours, this program specifically prepares students to qualify to take the Arizona Real Estate Licensing exam and for a career in real estate. Beginning in 2019, the Arizona Department of Real Estate has approved online prelicensing education classes.
Corrections – This 15-credit-hour program is designed for students intending to pursue careers in various correctional components of the justice system, including parole, probation, jail and prisons. The focus is on broader learning about the correction function in the context of overall administration of justice system.
Victimology – At 15 credit hours, the program is suited for students who are interested in pursuing a course of study specifically focused on crisis intervention, community services, and victim rights, as part of the administration of justice studies.
"The SCC leadership team constantly engages with local enterprise to determine the evolving job skills needed for tomorrow's workforce," says Dr. Stephanie J. Fujii, Vice President of Academic Affairs for SCC. "These deep relationships within our community, along with the broad hands-on work experience of our faculty, help ensure that SCC continues to develop curriculum-rich educational programs that benefit both students and employers."
Separately, SCC is offering students the ability to earn a bachelor's degree in biology from Northern Arizona University through the 2NAU Pathway Program, a partnership between NAU and Arizona community colleges, starting with the Fall 2019 semester. Students can earn their associate degree at SCC and then a bachelor of science degree in biology from NAU, while taking all coursework for the four-year program on the SCC campus. SCC and NAU offer similar four-year programs in elementary education, hotel and restaurant management, and interior design.
Registration for the Fall 2019 semester runs through August 16, and classes begin August 17. For additional information on the new programs, phone 480-423-6700 or visit the respective program pages on the SCC website:
About Scottsdale Community College
Scottsdale Community College (SCC) is student centered with a focus on active, engaged and intellectually rigorous learning. The College is known for high quality, accessible educational opportunities and innovative teaching, learning and support services. SCC serves about 10,000 students a year, offering more than 100 degrees and 60 certificates of completion in diverse occupational areas. At only $85 per credit hour, SCC is one of the most affordable colleges in Maricopa County, and the average class size is only 16 students. Through a partnership with the Salt River Pima-Maricopa Indian Community, SCC is honored to be the only two-year public higher education institution located on Native American land. For more information, phone 480-423-6700 or visit the SCC home page.
Scottsdale Community College is one of the 10 colleges in the Maricopa County Community College District, one of the largest community college districts in the nation. SCC offers academic courses leading to associate degrees, university transfer, certificates and short-term job training.
The Maricopa County Community College District (MCCCD) is an EEO/AA institution and an equal opportunity employer of protected veterans and individuals with disabilities. All qualified applicants will receive consideration for employment without regard to race, color, religion, sex, sexual orientation, gender identity, age, or national origin. A lack of English language skills will not be a barrier to admission and participation in the career and technical education programs of the District.
The Maricopa Community Colleges do not discriminate on the basis of race, color, national origin, sex, disability or age in its programs or activities. For Title IX/504 concerns, call the following number to reach the appointed coordinator: (480) 731-8499. For additional information, as well as a listing of all coordinators within the Maricopa College system, view the Maricopa Non-Discrimination Statements page.