Notice
This article appears for archival purposes. Any events, programs and/or initiatives mentioned may no longer be applicable.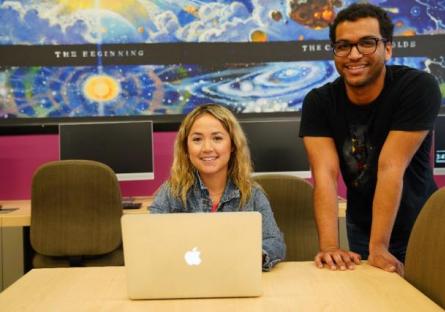 Enrolling in a summer class or two can be a solid choice for working professionals and high school and college students alike, while other individuals simply enjoy the pleasure of learning a new hobby or area of interest. Working professionals can stay current in their field while investing in their career growth. High school and college students can take a class during summertime, even if they are enrolled in a different program, saving them time and money along their educational journey.
Attending a local community college, like Scottsdale Community College, can be a good option since tuition is affordable at only $85 per credit hour and many scholarships, grants and financial aid resources are available.
Today many high school students attend SCC as part of a dual enrollment program so they can earn high school and college credits simultaneously. SCC has agreements with many local high schools, and coursework is offered in occupational and academic areas. Enrolling in a class over the summer, and beyond if so desired, helps reduce course duplication and can be instrumental in developing early occupational skills.
College students currently attending or looking to attend other educational institutions can take courses at a much lower cost and then transfer to a wide variety of public and private universities seamlessly. SCC offers degrees designed specifically to transfer and participates in many transfer agreements with colleges and universities.
Learners can choose specialized instruction working toward a high-demand career opportunity or general education and graduate with a certificate or associate's degree or transfer into a four-year university, if desired. For students who are undecided about their major, taking introductory coursework enables them to begin their educational journey while they work with skilled academic and career advisors to determine their future academic pathway.
For working professionals, continuous learning is critical to staying competitive in many industries. Enrolling in summer school can provide the additional training and skills needed for career growth and advancement. For certain certificate programs, simply completing one or two courses can provide the technical competency needed to help master a new skillset – and that can potentially lead to higher pay and increased job responsibilities.
In addition to serving up traditional academic programs in business, science, communications, English and many more, SCC offers career and technical degree programs in film/theater, fine arts, criminal justice, interior design, nutrition, hospitality/tourism, and computer information systems, just to name a few. Coursework is available on campus, online or a combination of both, depending upon what best suits the student's needs. Learn more about SCC's 100+ degrees and certificate programs.
Students can expect the same robust curriculum and educational opportunities on par with other accredited academic institutions. Almost 70% of SCC faculty members have a master's degree and 26% have a doctoral degree. The average class size is only 16, helping ensure personal interaction and a strong learning experience with the instructor.
So why not learn something new this summer and use summer to your advantage? Scottsdale Community College is here to help.
Summer Semester begins May 28. To get started, phone 480-423-6100 or visit here.