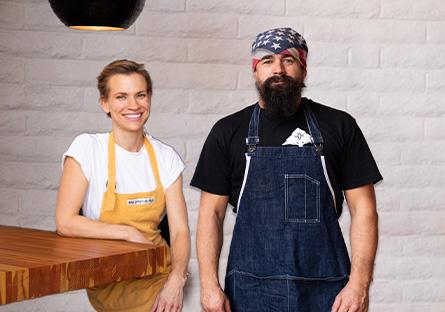 When husband and wife Jason and Katherine Dwight opened Persepshen in central Phoenix in 2019, they had a clear vision for the restaurant. "We wanted to help change people's perception of how to eat sustainably and organically utilizing local ingredients and making everything from scratch," Jason says. As co-owners, Katherine is the Executive Baker and Pastry Chef, and Jason is the Executive Chef.
This husband and wife duo met while students in the Scottsdale Community College (SCC) Culinary Arts program, and the couple shares a strong passion for sustainability, local ingredients, and the power of what Jason calls "real food."
They were attracted to the program at SCC because of the price point, program length, and the location. The affordability enabled them to self-fund their education. Jason had already been working in the industry for 15 years and was striving to become a restaurant manager. Katherine came directly from high school to the program. The SCC program covered every aspect: bread, pastry, meat fabrication, and running a dining room from dishwasher to general manager. "The program prepares graduates for real-world applications," Jason says.
In describing the program to others, they would share that "the Culinary Arts program is an opportunity to learn true industrial experience at a very affordable price point." Katherine really enjoyed every aspect of the program. She felt "very happy for the first time. It was a very exciting experience." Jason shared, "When we went to SCC, we got all the same knowledge that students can get elsewhere, but not a huge debt." They came out with a real-world concept of what their pursuit would offer. "Chefs don't earn a ton of money from the start. They have to earn their chops and grind." They both worked while completing this two-semester program so there really wasn't time to get involved in extracurricular activities. Jason's experience at SCC led into the NAU Hotel and Restaurant Management program that was offered through SCC. For Jason, "This opportunity was a huge selling point and very economical as well."
Jason shared, this "multifaceted program brought value in the sense that he did not incur hundreds of thousands of dollars of debt" while learning every aspect of culinary arts and commercial baking. He came out "ready to work and earn rather than having to pay off student loans." Jason shared that the most significant "value" of his experience was meeting his partner in life and business partner. Katherine and Jason felt a chemistry from the very beginning when they met on the first day of orientation. Fifteen years later, they are married and operate a successful business, Persepshen restaurant located in central Phoenix.
"The program reinforced that you have to work hard and that it is not an easy industry. Getting to see the whole process including every aspect of culinary arts and commercial baking was extremely beneficial," Jason says.
When asked about the most influential instructors they encountered while at SCC, Katherine and Jason replied, "All of our instructors were influential." Every chef brought expertise to the program and imparted skills and knowledge they carry forward in the work that they do as restaurant owners.
The menu at Persepshen changes weekly based on the availability of animals and produce. This approach also enables Jason and Katherine to be creative and continually challenged in their quest for excellent quality and providing local, organic, real food to their guests. "We do this because we love it. We have chosen it or it has chosen us because we love it," says Jason. They have built their restaurant upon their commitment to sustainability, organic living and supporting local businesses — values that are perceptible in everything from their cleaning products to the dishes' ingredients.
Persepshen is located at 4700 N. Central Ave., in Phoenix.
Learn more about SCC's Culinary Arts program.