Wednesday, September 20, 2023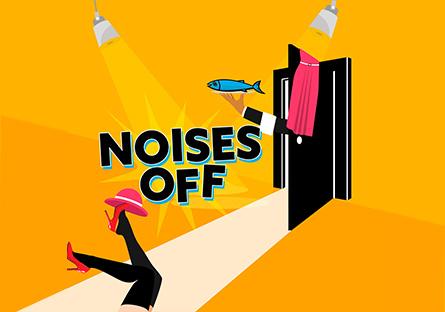 Get ready for a night of unbridled laughter with a modern comedy classic! Scottsdale Community College's School of Film+Theatre proudly presents "Noises Off," hailed as "the funniest farce ever written." This uproarious production invites audiences to step into the chaotic world of itinerant actors rehearsing a theatrical disaster titled "Nothing's On." Prepare for doors slamming, on and offstage shenanigans, and unforgettable escapades involving an errant herring.
"Noises Off" is a play within a play that offers a hilarious glimpse behind the scenes of a struggling theatrical production. Directed by an ambitious but overwhelmed director, a motley crew of mediocre actors embarks on the tumultuous journey of putting together a risqué sex comedy titled "Nothing On." This single-set farce promises lovers frolicking, clothes disappearing, and uproarious mishaps at every turn.
Don K. Williams, SCC's head of performance and directing, said, "It's a crazy world out there. There should always be room and a space to laugh."
All performances will take place at the PAC Mainstage at SCC on the following dates:
October 20 & 21, 2023, at 7:30 p.m.
October 27, 2023, at 7:30 p.m.
October 21 & 28, 2023, at 2:00 p.m.
Tickets are $20 for General Admission. Students and SRPMIC members receive discounted tickets for $10. Secure your seats for this uproarious production by visiting bit.ly/scc-noises-off-tickets today. Don't miss the chance to experience this comedic masterpiece live!
For further details and inquiries, please contact Maddie Natoli at [email protected] or call the box office at 480.423.6356.