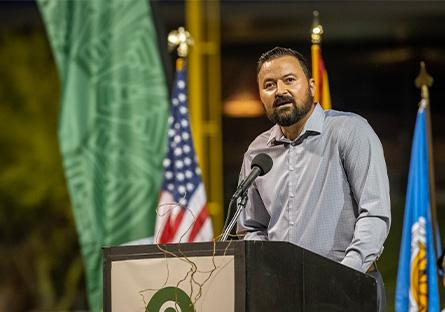 As a U.S. Army Veteran, Sergeant First Class Gabriel Garcia was no stranger to hardship when he first enrolled at Scottsdale Community College (SCC). The valuable lessons he'd learned throughout his youth and his time in the Army served him well as he pursued his higher education goals. Garcia imparted some of that hard-earned wisdom to his fellow alums during the May 2023 Commencement.
"I went from fighting in Afghanistan to becoming a Fighting Artichoke within a few years," he told the crowd. "I was encouraged by faculty members, like Professor [Sue] Sandblom, who motivated me to continue my education. Which, at that point in my life, presented new challenges, like balancing working full-time, raising a family, and attending school."
A first-generation college student, Garcia watched his parents persevere in similar circumstances as a child and picked up the value of hard work from their examples. "My Dad's side of the family immigrated from Mexico in search of a better life. I remember seeing my Dad frequently coming home exhausted after working construction out in the blistering Yuma heat. My Mom had her hands full with four boys, but she always went out of her way to ensure we were happy."
College was not at the top of his mind as a young man. After graduating high school shortly after the 9/11 attacks, Garcia enlisted in the Army, serving tours in Iraq and Afghanistan.
"I served in the Infantry, which meant I was frequently engaged in combat. Halfway through my final deployment, I sustained serious blast injuries from an attack that took the lives of over ten people, including two of my friends. I lost my right arm, most of my vision in my right eye, fractured my hip, as well as other injuries. As I recovered, I had to reevaluate my life and what I would do next."
Garcia returned to Arizona with a Bronze Star, a Purple Heart, and a new perspective on life. "I realized that I now had physical limitations, so I decided that pursuing higher education would be the best route for me to provide for my family. I had an interest in Finance and its role in Business, so I chose to pursue an Associate's Degree in Business."
Through his trademark hard work and support from faculty, he achieved his Associate's Degree, then a Bachelor's in Finance, and finally an MBA from the W.P. Carey School of Business at Arizona State University. Today, Garcia is a Senior Financial Analyst at Sprouts' Corporate Office.
"As you can probably tell by this point, whether overseas or at SCC, I've encountered plenty of challenges over my life but never shied away from attacking them head-on. I encourage you all to do the same. Just remember, as Theodore Roosevelt said, 'There can be no life without change, and to be afraid of what is different or unfamiliar is to be afraid of life.'"
Garcia offered the assembled crowd of graduates his three most essential lessons:
1. Be adaptable and receptive to change. Flexibility in hard times will lead to more opportunities in your career and will motivate those around you.
2. Be proactive in your personal development. Speak up, make your desires known, and take on special projects, and rotate roles and responsibilities at work. You might not immediately find the position you love, but you can cross off the roles you don't want for a career.
3. Seek feedback. It might initially make you uncomfortable, which is true for most people. Still, it will lead to more significant professional development in the long run.
Sergeant Garcia's bravery and tenacity served as an inspiration for everyone in attendance. All of us at SCC can be proud to count him among our fellow Fighting Artichokes!