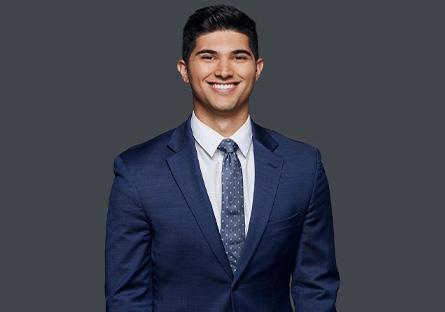 What can look like overnight success from the outside is often the result of years of tireless work and effort. As a rising star at Arizona's Family news team, David Caltabiano admits that the journey wasn't always easy. He points to his time at Scottsdale Community College (SCC) as a pivotal period.
"I honestly wasn't a good student in high school," says Caltabiano. "I didn't even try applying to university because I knew my grades were that bad."
Caltabiano is well-spoken and intelligent, and his meteoric rise through the newsroom speaks to his work ethic. But like many students, he says he lacked the motivation to excel in high school. That changed on a dime one summer day after graduation.
"I got into a bad car accident on the 87 during the summer between high school and SCC. That was a big wake-up call for me – how quickly your life can be taken from you. That was a big shock, but it showed me that if you want to hit your goals, you have to work hard. You can't just think it's going to happen; you have to make it happen. SCC allowed me to right some of the wrongs that I had in the classroom, hone in, and focus on what I wanted to do with my life."
With his sights set on becoming a broadcaster, Caltabiano spent his days at SCC developing good study habits and communicating with professors about what he could improve. "SCC gave me the ability to be better as a student so that I could go to university and learn how to become a journalist."
With those good-student skills engrained, he earned his way into the prestigious Walter Cronkite School of Journalism and Mass Communication before landing his first broadcast job in Eugene, Oregon. Like many native Phoenicians, the rain and abundant greenery of the Pacific Northwest attracted him until the months of near-constant clouds and rain wore him down and had him yearning for the Arizona sun. He built his portfolio covering the harsh realities of drug and human trafficking in San Antonio before returning home in October 2019 and landing at Arizona's Family.
"I grew up watching Arizona's Family, and a lot of the colleagues I work with now are people I've watched for a long time. Growing up, I wanted to do sports. I'm a big Suns and Cardinals fan, and this station allowed me to do both. It was the homecoming I wanted for years, and I've worked hard to get to this point."
Caltabiano praises Scottsdale Community College for helping him get his education back on track and giving him the momentum he needed to reach his goals. Small class sizes and attentive professors were instrumental in building his confidence. "I remember going into class and how good it felt to be successful in the school setting."
"I would say to people going to community colleges: stay focused on your goals. This is the first step of your journey, and it's valuable for getting you to that next step."
"Even if you barely graduated high school, you can use community college as a vehicle to get where you want to go. I'm happy to say that's how it worked out for me!"
SCC is proud to count inspiring members of our community like Caltabiano among the Artichoke family. Catch him on Channels 3 and 5!