Notice
This article appears for archival purposes. Any events, programs and/or initiatives mentioned may no longer be applicable.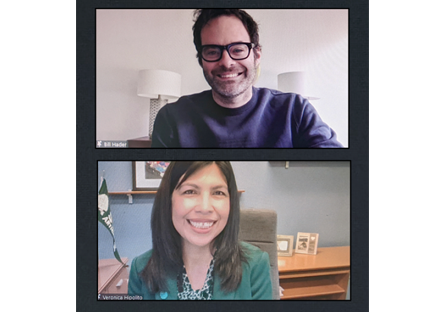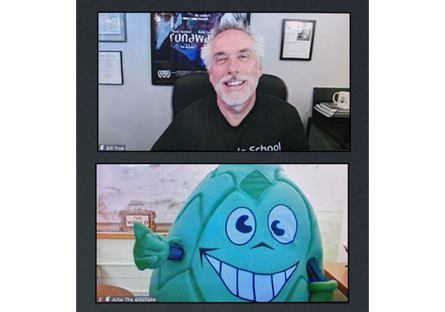 Emmy-winning actor and filmmaker Bill Hader, co-creator and star of HBO's "Barry" and former cast member on Saturday Night Live, received Scottsdale Community College's inaugural Outstanding Alumni Award, in a special online ceremony with students, faculty and staff March 30.
SCC Interim President Veronica Hipolito presented Mr. Hader with the award. Bill True, Department Chair for the Scottsdale School of Film+Theatre, moderated the discussion.
Hader discussed his extensive career and his time attending SCC, where he gained hands-on experience in screenwriting, acting, filming, editing and producing, before moving to Los Angeles in 1999.
At the time, he said it took a minimum investment of $5,000 to shoot a short film that could impress Hollywood executives. Today, with plentiful low-cost recording equipment available and potentially wide distribution through YouTube and other online platforms, it's so much easier for anyone to create film projects.
Hader revealed his challenges with anxiety when creating and performing throughout his career – and how he handles this today. He mentioned that if he could speak to his younger self, he'd say not to worry so much and just have fun with the process.
When asked his advice on how to break through and achieve career success in the film and television industry, Hader encouraged students to work on many different projects and "just make a lot of stuff." 
He quickly added, "Constantly fall on your face. Learn lessons from that and learn from everyone around you—it never ends. Become friends with failure." This powerful message about persistence was both inspiring for students and especially relevant to those who are working on their craft and pursuing their dreams.
---
About Scottsdale School of Film+Theatre
Widely regarded as one of the best film schools in the Southwest U.S., SCC's Scottsdale School of Film+Theatre features two-year hands-on programs that are exceptional and unique among the community colleges in Arizona. From the stage to the soundstage and all points in between, students are immersed in virtually every aspect of the film and theatre disciplines. Through both a theoretical and hands-on approach, each student leaves with not only a degree in their chosen field, but with a keen understanding of how their education is applicable in the professional world. For more information, visit SCC's Scottsdale School of Film+Theatre.