Notice
This article appears for archival purposes. Any events, programs and/or initiatives mentioned may no longer be applicable.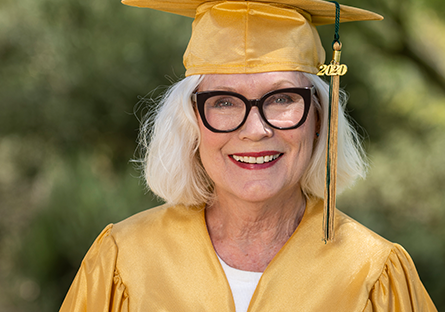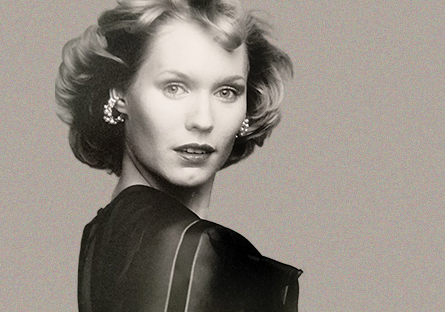 When Pamela Keller Hallows decided to return to school at 64, she felt reasonably nervous – attending a new school with classmates far younger than her felt intimidating. But Hallows had never shied away from a challenge before, and with an innate passion for helping people, she refused to let the anxiety deter her from doing what she knew she wanted to. 
Now 71 and a member of SCC's 2020 graduating class, Hallows is nearing the completion of her Bachelor of Social Work degree from Arizona State University. By the time she holds that treasured diploma, she'll have been back to school for eight years, but as she explains, "I'm persistent. I'm like a Gila Monster. I sunk my teeth in, and I will get this degree. I couldn't have done it without all the help I had."
Hallows is quick to name many SCC faculty who helped her on her journey, but she provided her fair share of help during her time as an Artichoke. She volunteered consistently at Artie's FIT Market Pantry, where she helped younger students find healthy foods at an affordable price as a way to battle food insecurity. "So many of these young students are hungry," she says. "They just can't afford to eat, and your brain just doesn't work right when you're hungry!"
Volunteering at Artie's FIT Market Pantry gave her the first indication that a career in social work might be her calling. As she helped students secure food, they grew comfortable with her and opened up about other challenges they faced – mounting bills, finding a place to live, and the stresses of balancing work and school. Hallows says she understands how hard it can be to ask for help, so as students began to share their problems with her, she shared solutions, directing them to social services around the city that could help with whatever they were facing. She quotes her mother, saying, "There's only one reason that we're here, and it's to help one another. If you can't help somebody, you're not doing your job."
Originally from Dallas, Texas, Hallows points to her mother as the inspiration for her drive to help people. Her mother worked as an oncology nurse before she followed her love for children by opening a daycare. "Mom was always helping people," Hallows recalls. Her drive to help often led her to overlook being paid. Being of service was enough for her. But that, unfortunately, didn't pay the bills, so by the age of 13, Hallows was the one collecting money on her mother's behalf so they could afford lunches for the children and keep the business running. 
Describing her teenage self as "ugly and shy," Hallows explains her surprise when offers to model and act began to roll in. Pamela Keller is the name on her Screen Actors Guild card, the same name that appears in the credits of The Last Picture Show, in which she played Jackie Lee French. The Last Picture Show, which starred Jeff Bridges and Cybil Sheppard, was nominated for six academy awards, including Best Picture and Best Director. Hallows reunited with director Peter Bogdanovich at the Sedona Film Festival in 2012 to present a Lifetime Achievement Award to Bogdanovich and participate in a Q&A session about the famous film.
Hallows explains that she kept her maiden name, Keller, to honor her father. That name also comes with some interesting trivia – she's a distant cousin of the famous Hellen Keller.
After a long sales career, including being one of the very first female salespeople for Proctor & Gamble, Hallows reached retirement age. "Boring," she thought. So in 2015, it was back to school she went, fighting through the anxiety that any new journey brings with it. She credits her advisor, Maria King, as the reason she made it through. King offered guidance and encouragement daily, constantly sending her uplifting and encouraging messages, and was instrumental in pointing her towards social work as an outlet for her natural passion for helping others. 
"Each professor really cared about me. You want to know when you're in school that the teachers you have care. That's what you get at SCC. I can remember every teacher I had, and I love every single one of them." 
Hallows encourages anyone considering returning to school to "just do it."
"Don't care about what others think. If this is what you want to do, if it's a lifetime goal, do it. Everything you learn you can take forward and use to help someone else. That's what we're supposed to do. People just forget that."
For more information on pursuing your education at SCC, visit the Degrees & Certificates and Future Students pages.